Dieses Event ist beendet.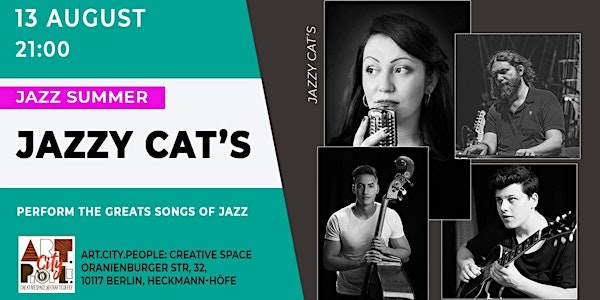 Jazz Summer Festival / Jazzy Cat´s
Greatest songs of jazz
Zeit und Ort
Veranstaltungsort
Art.City.People.: Creative Space Oranienburger str. 32, Heckmann-Hofe 10117 Berlin Germany
Karte und Wegbeschreibung
Zu diesem Event
JAZZ SUMMER Festival
JAZZY CAT's - greatest songs of jazz,
Intimate Yet sizzling performance.
when old jazzy tunes get some of Berliners Yong Attitude.
A combination of versatile and diverse collaboration between Jazz musicians based in Berlin present :
Olla - vocals
Olla's phenomenal vocal range and stage appearance perfectly delivers an authentic voice of jazzy act.
Olla a singer songwriter with a musical and stage performances experience over 15 years.
Artur Rutkevich - Saxophone
Gabriele Romeo is a guitarist and composer born in Italy and currently living in Berlin, Germany.
When: 13Th August, 21.00
Where: Art.City.People.: Creative Space
Address: Oranienburger Str. 32, 10117 Berlin, Heckmann-Höfe
Entrance: free, donations are welcomed
Please, register via the link on Eventbrite! Number of seats is limited!
The venue of a concert – cosy creative space "Art.City.People.". It is a gallery, café and place for music and art events. During a concert you can enjoy one of the best coffee and tee and Berlin, as well as cocktails, beer and snacks! Come earlier to the concert to get best seats and order in a bar!
Art.City.People. is allocated in the great Berliner courtyard Heckmann-Höfe, hidden oasis in the center of Berlin. Once coming here people fall in love with! Discover the best places and events with Art.City.People.