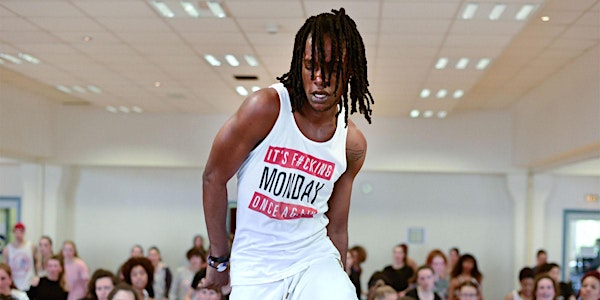 Jamaican Dancehall (Mittelstufe) - 5 Tage Tanzworkshop - Summer Intensive
Sei dabei und lerne echten Dancehall bei Kool Ravers aus Jamaika!
When and where
Location
motion*s Tanz- und Bewegungsstudio Stella Caric GmbH Prinzestraße 85B1 10969 Berlin Germany
Refund Policy
Contact the organizer to request a refund.
About this event
3JAMAICAN DANCEHALL (MITTELSTUFE) MIT KOOL RAVERS AUS JAMAICA
Wieder einmal bringt uns Maggi und ihr tolles Team bei TopUp Production einen mega angesagten jamaikanischen Tänzer nach Europa.
Dieser Summer Intensive Workshop mit Kool Ravers richtet sich an alle, die bereits Erfahrung im Bereich Dancehall oder anderen Urbanen Tanzstilen mitbringen und Lust haben die vielen Facetten des echten jamaikanischen Street Dancehalls zu erlernen!
Der Fokus in diesen 5 Tagen liegt darin 2h täglich Techniken der verschiedenen Eras des Street Flow Dancehalls zu erkunden. Ganz besonders wie Dancehall bei den Street Parties von Jamaika getanzt wird. Dabei verbindet sich die technische Seite mit dem genauso wichtigen Spaß-Faktor und der Aneignung von kulturellem Hintergrundwissen. Musikalisch bedient sich Kool dabei an Dancehall Musik aus den 90ern bis zu heutigen Tracks.
PREISE
5 Tage à 2h Workshop
125,- € Early Bird bis 4 Wochen vor Workshopbeginn
145,- € regulär
Rabatte für Vertragsmitglieder, Professional Card Inhaberinnen, motion*s Mitarbeiterinnen / Dozentinnen:
100,- € Early Bird bis 4 Wochen vor Workshopbeginn
125,- € regulär
Rabattpreise nur in bar im Studio am Tresen!
Tagespreis (nur am Tag selbst am Tresen möglich)
33€ regulär/ 29€ Rabatt
Special Preis
Wenn Du mehr als eine Intensive Week bei uns buchst bekommst, Du die zweite Intensive Week zum Early Bird Preis.
ANMELDUNG
Bitte melde dich bis spätestens 7 Tage vor Workshopbeginn an. Folgende Optionen hast Du dazu:
1) Anmeldung und Barzahlung am Tresen im Studio
2) Anmeldung über unser Kontaktformular unten und Zahlung per Überweisung
3) Ticket bequem bei Eventbrite online buchen (gegen Gebühr)3