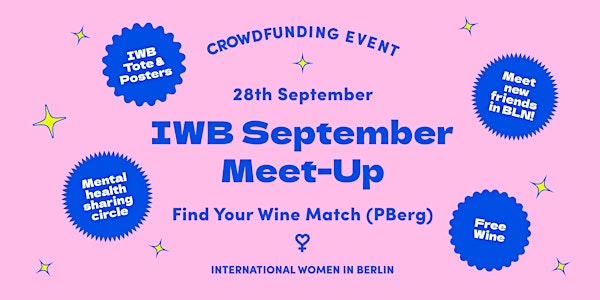 ✨IWB September Meet-up✨
Come and have some wine with us! Meet other IWBies and make new connections in our monthly meet-up!
When and where
Location
Find Your Wine Match Sredzkistraße 36 10435 Berlin Germany
Refund Policy
Contact the organizer to request a refund.
About this event
Hi everybody! 💖
Another month, another IWB meet-up!
We had such a great time at "Finde Your Wine Match", so let's meet up there again, for our June meeting! As the last time, besides amazing wine and great vibes, we will also host a sharing circle about immigrant's mental health. Let's share some insights and support each other! 😍
Join us and meet other amazing women in Berlin!
Agenda:
18h-19h Open doors and wine
19h-19.30h Talk about mental health for immigrants
19.30h-22h Happy hour with wine and music
About the ticket:
The price of the ticket is to support all the work behind the IWB project.
As a huge thank you for the Patreon members, the ticket is free for them <3
If you are an IWB Patreon, let us know, so we will put your name on the list.
👉🏼 If you want to support the IWB in the long term and go to our events for free, join our Patreon! Donations start from 2,50 euros - that's basically a cup of coffee ☕️
✨We will be also selling our tote bag for only 10€!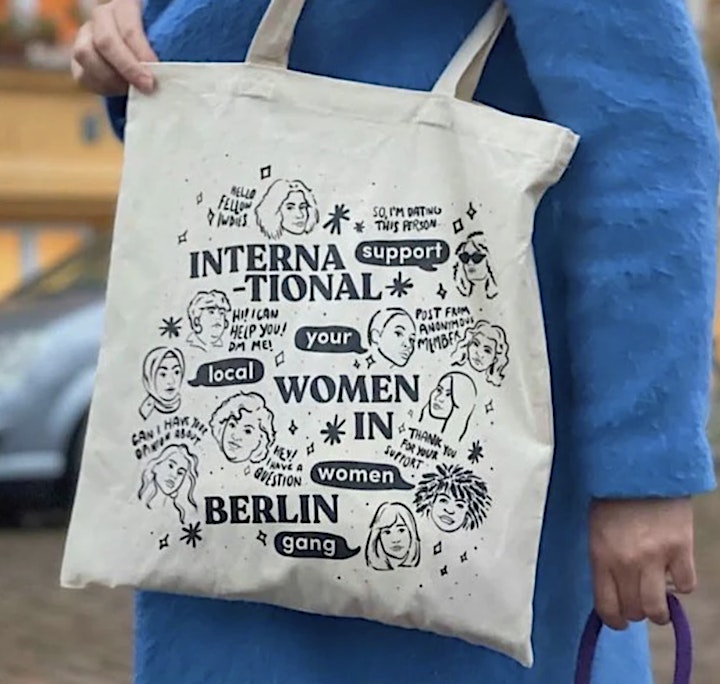 Support IWB and spot other members on the street by getting one of our bags!
Normally it costs 15 euros, but at the meet-up, it will be only 10 euros! 💖
👉🏼 Get your tickets today! We have limited spots! 💖
Join us for this special night!
Hope to see you there,
Bruna from IWB 💖
------------------------------
COVID PRECAUTIONS: Event only for boostered or recovered people!
We will be checking your vaccination digital passes in the entrance.
With you can, get tested before joining us! If have any covid symptom, stay at home!
------------------------------
🙋🏽About International Women in Berlin:
IWB is a community with over 30k women, mostly immigrants living in Berlin.
This community aims to help women navigate their lives better in the German capital. We talk about all kinds of issues, from bureaucracy and the German culture to dating and more sensitive issues with our anonymous posts.
We also host meetups where our members can meet, network and start new friendships :)
Now we are starting this series of workshops to help women even more. Stay tuned for our next workshops about different topic such as finances, self-esteem, bureaucracy in Berlin and many more to come!
Join our community, follow us on Instagram and sign up for our newsletter to know about our future events 💖
Terms & Conditions: The tickets are non refund tickets. By signing up for this online event you agree that the event organizer IWB is allowed to contact you for marketing and promotional purposes. You can cancel this subscription at any time.