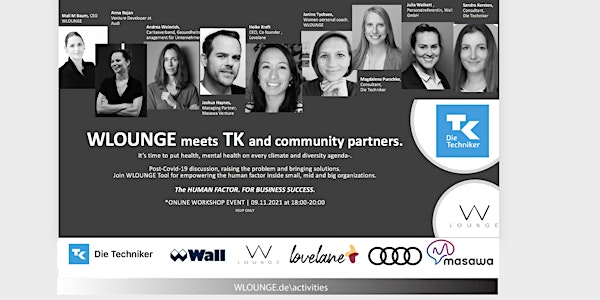 It's time to put health, mental health into work-Post Covid. Human Factor.
WLOUNGE meets TK and community partners. It's time to put health, mental health on every climate and diversity agenda. The Human Factor.
About this event
YOU'RE NOT ALONE! MENTAL HEALTH CAN IMPACT US ALL.
Building bridges between C-level management, HR, partners, corporates and entrepreneurs. With a healthy mindset for a healthy organization.
WLOUNGE meets TK and community partners.
It's time to put health, mental health on every climate and diversity agenda. The Human Factor.
If you're raising a startup,
If you're working in a big organzation,
If you're planning your next phase in your career,
If you're in a growth stage,
If you're facing success,
Do you want to hear from experts about,
1. Flexibility is a key concern.
2. Ppl want more respect for their work and home life.
3.Company Culture trumps salary.
4. Better communication.
5.Great psychological safety.
6. Tech tools who want to provide solutions.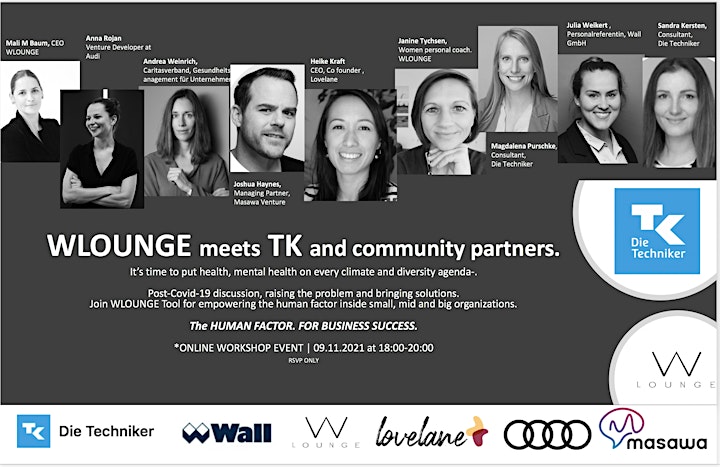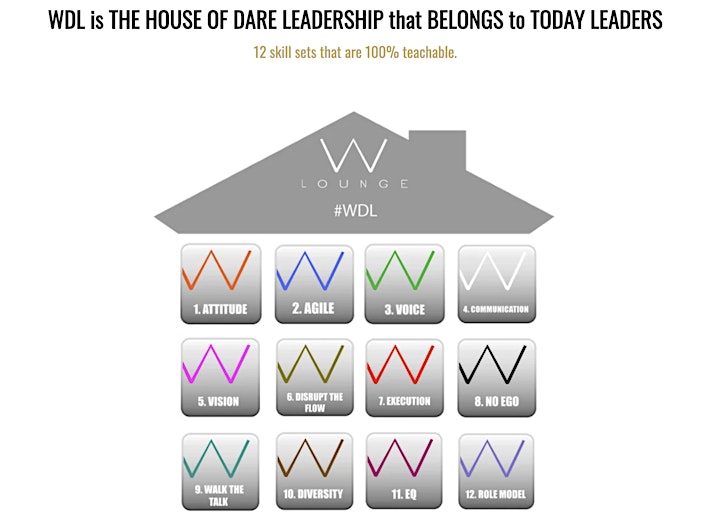 WLOUNGE meets TK (TECHNIKER KRANKENKASSE)
Invitation to a virtual LIVE Workshop | 9.11.2021
Link to the workshop onoline event directly : https://smart.newrow.com/room/?wsk-269
How are you taking care of yours/ your employee's mental health?
The HUMAN FACTOR.
This dynamic live workshop breaks silos and builds bridges across various industries by raising hot topics, highlighting the latest pain points and challenges that the ecosystem is dealing with. Hot topics like mental health, diversity, self-management, managing teams, and organizations while working remotely and keeping the leaders and employees super motivated and connected.
Together with the audience's brains, management, HR people, partners, founders and other companies discuss real challenges in corporate and startups culture that need to be cracked and communicated transparently between different stakeholders within the company like CEO´s
HR/CPO´s/ FOUNDERS/ CEOs : As we want to see/ hear more from them in the German ecosystem, keep striving and growing their organizations, we decided to talk about PAIN POINTS AND CHALLENGES AS AN OPPORTUNITY.
As an entrepreneur, you see opportunities in EVERYTHING!.
As a corporate, you're too slow to see and implement opportunities to succeed -
or is that a cliché we have to talk about?
Together we have SO MUCH to learn and adapt from each other's business culture!
AND THIS IS WHERE WLOUNGE is stepping in.
ONLINE LIVE WORKSHOP on 9.11.2020 AT 18:00-20:00
Experts on the virtual live panel will share their stories, their true PAIN POINTS in business they are dealing with and raise their specific questions to the audience to find a solution TOGETHER in an interactive unique way like WORKSHOP-CIRCLES in action!
After presenting the panel´s challenges and questions, the audience will be split into groups according to the relevant PAIN POINT as an individual and assign themselves to the respective question which was raised before during the panel discussion. The purpose is, to create real and efficient solutions for immediate execution.
WE HIGHLIGHT THE PROBLEM AND BRING SOLUTIONS TO IT.
Answers and highlights of the group discussions will be shared afterward to the broader audience so that everybody can learn from each other for one's own career pathway. TOOL KITS for the panelists and the attendees will be provided this way to work with in their immediate daily work.
Communication makes the whole ecosystem stronger.
TK - Techniker Krankenkasse - is Germany's biggest health insurance provider and one of the leaders in the health insurance market, when it comes to digitizing and progress.
TK´s aim is to provide YOU with pioneering formats like Workshop Circle to build communities around challenges and opportunities. TK is extremely engaged in exchanging ideas and new contacts on the big topic of cultural diversity management on a regular basis.
FREE REGISTRATION
Register with Eventbrite and sign up for the event. Enter your LinkedIn profile when you register, if you like.
LET'S TALK AND BE THE LEADER FOR A CHANGE.
CHANGE = OPPORTUNITY
Looking forward to seeign you
WLOUNGE & TK
WLOUNGE team: info@wlounge.de