Join our Italian Community Event & Learn how to start a career as a Web Developer in Germany.
About this event
Vivi a Berlino e vuoi diventare uno sviluppatore web?
During this free online event you will:
Discover your potential for the digital industry
Find out how to learn development, marketing or cloud computing
Do the first step towards your new career in the digital industry today
We will explain everything to you in Italian and English!
How to take part?
Register for free on this page.
Join the webinar using the link.
Check your inbox for a confirmation email including the webinar link. Don't forget about the spam folder ;)
Save the date in your calendar.
You will receive a reminder by email 1 hour before the webinar starts.
Our graduates.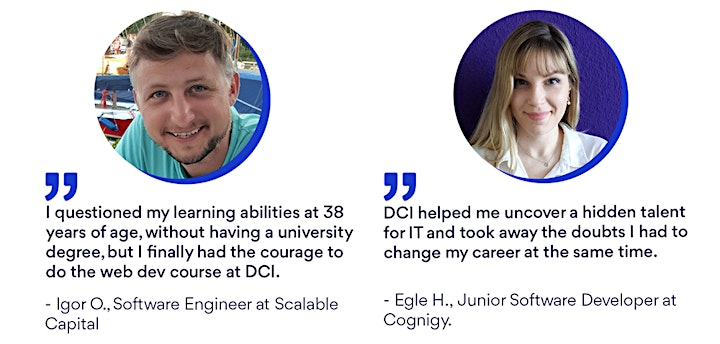 Impara gratis nuove skills digitali!
Questions?
Feel free to contact us:
Julia Meyer - Service Manager
Telephone: +49 30 56795008
Email: j.meyer@digitalcareerinstitute.org
Organizer of Italian Community Event - Learn digital skills in Germany