Isar Flow Experience: connect, move, and breathe in nature
About this Event
Let go of the constant stress and tension of spending your weeks sitting at a computer, disconnected from your aliveness and natural power. Undo the damage of living all day in your thoughts, your awareness dulled by an endless stream of digital information, your body stacking layer upon layer of tension and inflammation from immobility and lack of exposure to the elements.
On 21 August 2020, wake up the power of your mind and body to feel alive, flowing, connected, relaxed, and joyful. In this expert-guided experience, you will:
• Access the healing power of deep connection to nature through a guided walk of the Japanese art of Forest Bathing (Shinrin-yoku).
• Generate health and freedom in your joints and develop sensitivity to your body and its interplay with the environment around you in a movement workshop exploring essential human movement patterns.
• Unlock your mental strength in a guided experience of the power of your breath and the primal aliveness triggered by cold water bathing.
If you're the kind of person who loves learning about yourself, transcending your current limits, and connecting with other amazing people outdoors, the Isar Flow Experience is for you. Three expert coaches, three unique experiences of the power of your mind and body to be reconnected to each other and to the natural world. This is the Isar Flow Experience.
VIP EXPERIENCE
Want to boost your life on a deeper level to accelerate personal growth, reduce chronic stress, or improve your health? Then the VIP Isar Flow Experience is for you!
VIP tickets give you access to everything on the event day, plus a 45-minute online personal coaching with one of our experts: Kimo, Raphael, or Alex. Connect in a one-to-one intensive to discover how you can integrate this work into your daily life and support your continued health and growth. We'll dive deep with you to help you achieve your goals and make the Isar Flow Experience the start of a truly transformative experience.
VIP ticket holders can choose the coach of their choice after the event, and appointments will be set on a one-to-one basis with the individual coach.
DEUTSCH
Es ist an der Zeit die durch unseren modernen Lebensstil bedingte Immobilität und Taubheit, bedingt durch Stunden vor dem Computer und Datenfluten an digitalen Informationen, welche Schicht um Schicht an neuen Spannungen und Entzündungen in uns hervorrufen, für einen Moment zu durchbrechen um die Aufmerksamkeit zurück an uns selbst und unser direktes Umfeld zu richten. Wir möchten Dir die Möglichkeit geben einen Ausgleich zu schaffen, das Bewusstsein für den Körpers zu schulen und mit Hilfe moderner und traditioneller Heilverfahren in der Natur eine Balance zum Alltag in der technisierten Gedankenwelt herzustellen.
Am 21. August 2020, erwecken wir die Potentielle Energie von Körper und Geist. Spüre wie sich die Sensitivität deiner Sinne schärft und du dich im Einklang mit der Natur verbunden, entspannt und lebendig fühlst.
• Erhalte Zugang zur heilenden Kraft von Mutter Erde durch ein geführtes Shinrin-Yoku (japanisch: "Waldbad"), welches seit Jahrzehnten als Naturtherapie praktiziert wird.
• Entwickle Koordination und Wahrnehmung in deinem Körper und schule deine persönliche Bewegungsintelligenz und entwickle dadurch Möglichkeiten der Interaktion mit deinem Umfeld.
• Erlerne Methoden deine mentale Stärke zu trainieren und mit Hilfe der Kraft des Atems in Stresssituationen, wie beispielsweise unter Kälteeinfluss, Herr deiner Sinne zu bleiben und in deinem Immunsystem Resilienz zu schaffen.
Drei erfahrene Coaches, drei einzigartige Methoden um die Kraft von Geist und Körper in natürlicher Umgebung in Einklang zu führen. Das ist die Isar Flow Experience.
======================
YOUR GUIDES: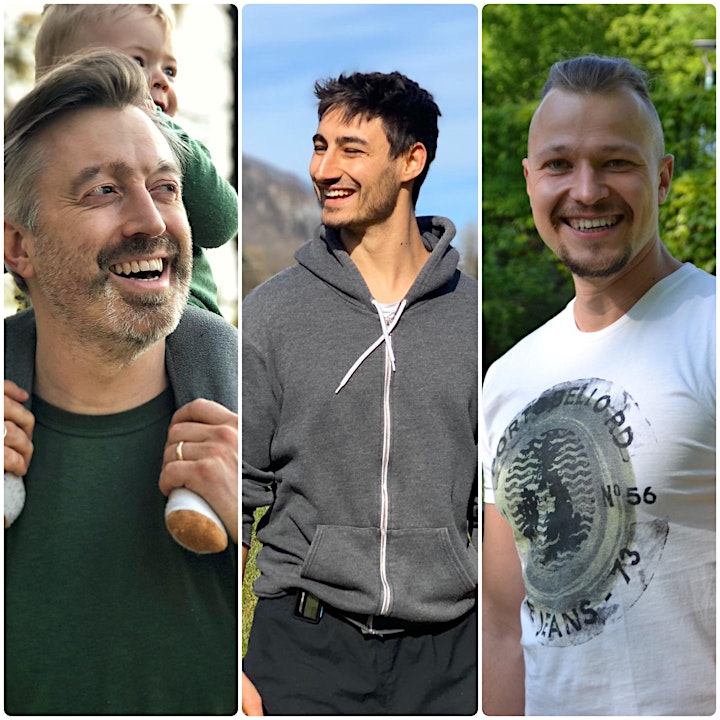 Dr. Kimo Quaintance is a teacher, coach, TEDx speaker, and nature therapy guide who was raised in the Rocky Mountains of Colorado. He has been teaching and leading groups for more than 20 years in the United States, China, Scotland, and Germany. In recent years, he has studied Shinrin-yoku, the Japanese art of "Forest Bathing", a form of nature therapy developed over the past 30 years with research funding from the Japanese government.
Raphael Hafez is a physiotherapist, student, practitioner, and teacher of human movement. He is currently a teacher of movement principles for the German national Judo team. His work is inspired by Ido Portal and Joseph Bartz.
Alex Kalinger is Munich's first longevity guide, founder of the health platform, dalife, and a breathing & cold bathing practitioner. One year ago he started a project called "Isar Cold Bath Experience" to inspire people to strengthen their immune system through weekly breathing & cold bathing in a group. The group has grown to more than 40 members who are committed to starting their day with more energy and a clear mind.
======================
WHAT TO BRING:
- Comfortable clothes for moving outside
- A swimsuit
- A towel
- Water or something for you to drink during the event
======================
WHERE TO MEET:
We will meet along the Isar south of the city center, in an open area close to the Conwentzbrücke, approximately 300m south of the Hinterbrühler Restaurant. The closest S-Bahn station is Solln (S7)
https://www.google.com/maps/place/48.082723,+11.540320/@48.0843141,11.5407132,16z
======================
OTHER DETAILS:
This event will be led in English and in German
In the event of severe weather, the event will be rescheduled and all tickets sold will be valid for the new event date.
======================
PHOTO RELEASE
We would like to give everyone the opportunity to have an unforgettable experience at our event. In order to keep everyone happy in the future, we need your consent for the further use of images, sound and film recordings made at the event.
By purchasing these tickets, you agree for yourself to the following conditions regarding the use of photos and videos:
Consent to IQ Gemini GbR for the use of photos and videos
Event: Isar Flow Experience
Photographers: Kimo Quaintance, Rafael Hafez, and Alexander Kalinger
I hereby consent to IQ Gemini GbR taking photos and videos of me as part of events and other events of IQ Gemini GbR or which I make available to IQ Gemini GbR for an unlimited period of time for documenting events as well as for press and advertising purposes All media (especially print (e.g. brochures) and online (websites, social media, etc.)) may publish, use and otherwise process. This includes the publication, use and processing for the purposes of press and public relations, editorial reporting as well as for advertising and marketing purposes in connection with IQ Gemini GbR and the events it organizes. To the above extent, IQ Gemini GbR is also entitled to grant third parties the right to publish, use and process in any other way.
My consent is free of charge.
I can withdraw this consent at any time with future effect. For this it is sufficient if I send an email to IQ Gemini GbR: info @ iqgemini.com. The revocation of consent is only effective for the future and does not affect the legality of the processing carried out up until the revocation.
DEUTSCH
Wir möchten allen die Möglichkeit geben, auf unserer Veranstaltung ein unvergessliches Erlebnis zu haben. Um alle in Zukunft glücklich zu machen, benötigen wir Ihre Zustimmung zur weiteren Verwendung von Bildern, Ton- und Filmaufnahmen, die auf der Veranstaltung gemacht wurden.
Mit dem Kauf dieser Tickets erklären Sie sich mit den folgenden Bedingungen für die Verwendung von Fotos und Videos einverstanden:
Spezielle Einwilligungsvorlage der IQ Gemini GbR für die Verarbeitung von Fotos und Videos
Veranstaltung: Isar Flow Experience
Fotografen: Kimo Quaintance, Rafael Hafez, and Alexander Kalinger
Ich willige hiermit ein, dass die IQ Gemini GbR Fotos und Videos meiner Person im Rahmen von Veranstaltungen und sonstigen Events der IQ Gemini GbR gemacht werden oder welche ich der IQ Gemini GbR zur Verfügung stelle, zeitlich unbeschränkt zur Dokumentation von Events sowie zu Presse- und Werbezwecken, in allen Medien (insb. Print (z.B. Broschüren) und Online (Webseiten, Social Media, etc.)) veröffentlichen, nutzen und auf sonstige Weise verarbeiten darf. Dies umfasst die Veröffentlichung, Nutzung und Verarbeitung zum Zwecke der Presse- und Öffentlichkeitsarbeit, der redaktionellen Berichterstattung sowie zu Werbe- und Marketingzwecken in Zusammenhang mit der IQ Gemini GbR und den von ihr veranstalteten Events. Im vorbezeichneten Umfang ist die IQ Gemini GbR berechtigt, auch Dritten das Recht zur Veröffentlichung, Nutzung und Verarbeitung auf sonstige Weise einzuräumen.
Meine Einwilligung erfolgt honorarlos.
Ich kann diese Einwilligung jederzeit mit Wirkung für die Zukunft widerrufen. Hierzu genügt es, wenn ich eine E-Mail an die IQ Gemini GbR schicke: info @ iqgemini.com. Der Widerruf einer Einwilligung wirkt erst für die Zukunft und berührt nicht die Rechtmäßigkeit der bis zum Widerruf erfolgten Verarbeitung.