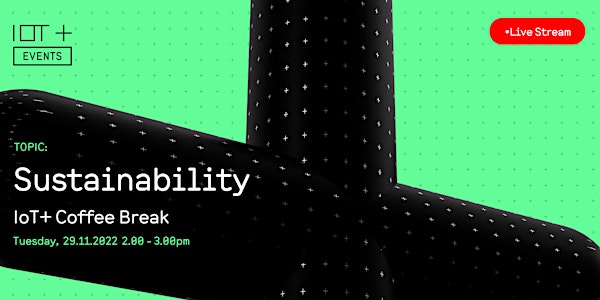 IoT+Coffee Break: Sustainability
IoT+Sustainability: Added value through applied IoT in the way to sustainability- relevance, examples, implementation possibilities
About this event
The IoT+ Coffee Break is an interactive event where experts share concrete examples and IoT applications demonstrating the innovative power of IoT. Everyone is welcome to join, listen, and participate in the Q&A.
Government and private sector should work together to achieve sustainability . What can be done with IoT?
We have 3 great speakers !
Doris Meurer is a scientific officer at the German Environment Agency and since 2016 responsible for industry 4.0 and environment as well as industrial emissions and decarbonisation. She studied at the RWTH Aachen University and obtained a master`s degree in biology, in environmental engineering and a master´s of art in European studies. During her career she worked for different institutions in Germany, for the European Commission in Brussels and several years in Latin America in the context of international cooperation mostly focussing on climate and environmental issues in the urban-industrial sector.
On this technical background she started several activities at the German Environment Agency to promote the integration of environmental aspects in industry 4.0 and to contribute to the sustainable and digital twin transition. In 2019 Doris Meurer launched a research project addressing aspects of environmental data in industry 4.0 and which will be completed at the beginning of 2023.
In her presentation she will talk about "Data, sustainability and industrial ecosystems" and will present part of the findings and concrete outputs of the research project "Environmental Data in Industry 4.0".
Mariana de la Roche, is the Regulatory Affairs Manager of the IOTA Foundation and; since 2021, she is the co-chair of the INABTA Social Impact and Sustainability Working Group. She is a Colombian human rights lawyer with a law degree obtained with academic excellence, a specialization in human rights and humanitarian law, and a master's degree in public administration. She has over 9 years of experience as a project manager and legal and regulatory advisor for different NGOs and social businesses in Colombia and Germany. Mariana has been leading the actions of the social impact and climate of INATBA, raising awareness and advocating for blockchain for good at the global level. Mariana is also part of the leading team coordinating Blockchcain 100+, an initiative supported by the UN's General Assembly to create a charter for blockchain and the UN Values.
Blockchain for good – leaving no one behing The presentation will be about the potential of blockchain for social good. She will briefly discuss some DLT use cases and initiatives pushing forward the achievement of the SDGs in the IOTA ecosystem. Moreover, she will present some of the work that she has been doing with INATBA's social impact working group.
The Building industry as one of the major sources of C02 pollution needs to speed up decarbonization. Pushed by legislation and the latest cost development sustainability has become a keystone of business strategies in real estate and the need for data based proves of sustainable impact makes collection, homogenization, and analysis of a huge amount of building related data necessary. Real estate can't save the world using excel.
Pia Maria combines her broad leadership expertise in Real Estate Asset Management and a solid track record in change management within the industry. She is passionate about of digital processes in real estate operations,and promotes the data-based sustainability action presenting the digital twin born data platform BuildingMinds.
Moderator: Gonzálo Parra Álvarez
Gonzálo works at the intersection of digital transformation and sustainability. Having worked with lasers communications, logistic robots and artificial hearts, Gonzálo now focuses on data driven analysis to decarbonize cities.
Register and be part of the experience!
If you have any questions about this event please contact us at hello@iotplus.network.