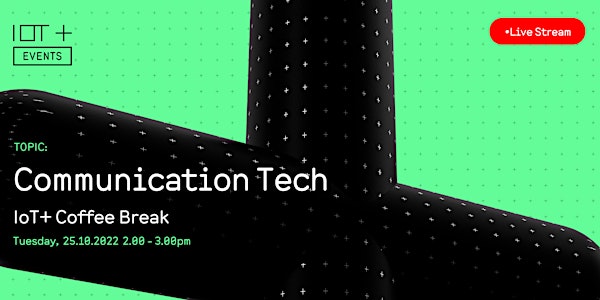 IoT+Coffee Break : Communication Tech
IoT+Communication Tech: Added value through applied IoT in Communication Tech - relevance, examples, implementation possibilities
About this event
The IoT+ Coffee Break is an interactive event where experts share concrete examples and applications demonstrating the innovative power of Internet of Things (IoT). Everyone is welcome to join, listen, and participate in the Q&A.
For this event we have 3 great speakers!
Arne Aßmann VP Commercial @1NCE
Roland Becker Co-Founder @Digital SIM GmbH
Dr. Georg Riegel, CEO @ deZem GmbH
Moderator: Anna Shepelenko CMO @ Staex
How IoT is changing from networks to a software business
In his session, Arne Aßmann, VP Commercial at 1NCE, highlights the evolution of the IoT Industry and how Over-The-Top (OTT) providers are utilizing software as an advantage to traditional Mobile Network Operators (MNO).
By taking a brief look back into the history of messaging and unified communications, he points to the parallels that emerge in IoT. As such, telco-only businesses were soon taken over by OTT providers like Meta, Tencent or Twilio which used software to create global, cross-platform services like Whatsapp and WeChat. That paradigm shift is visible in the IoT industry, too.
Professional IoT Connectivity made easy
Roland Becker, Engineer of electronics is an experienced manager in Telecommunications and, among other things, headed the wholesale division of the network operator Telefónica Deutschland (O2). As co-founder of Digital SIM GmbH, an independent provider of mobile communications solutions for the Internet of Things and machine-to-machine communication, he is responsible for business development.
Worldwide mobile connectivity for machines is an enabler for many IoT Projects and Digitization in general. Nevertheless, access to professionally managed SIM-Cards has been much more difficult in the past that one could expect. We see that as one reason for Germany's lack of digitization. Digital SIM offers an easy access to all kinds of SIM connectivity. Find out the basics of managed SIM-Cards which are able to use all mobile networks in one country – not just one.
Battery-free LoRaWAN Current Sensor and its Mass Applications
Dr. Georg Riegel, CEO & Founder of deZem, many years of experience in the industry (SMEs and concerns) regarding energy controlling and digitalised businesses. He studied physics and chemistry in Chile, Germany and Canada. In 2003 he founded deZem, which develops and operates state-of-the-art data acquisition and software solutions for web-based energy controlling and IoT management.
deZem has just developed the HarvyLR LoRaWAN sensor which makes monitoring of AC currents in electrical distribution grids, industry or buildings of any kind easier than ever before. It uses Energy Harvesting and is completely maintenance free (no battery required). Available with clamp-on current transformers of all sizes. Also ideal for monitoring 4-20mA analog signals in industry. Applications will be shown live on the deZem SaaS Data platform, but this sensor comes with its payload decoder and can be used with any LoRaWAN Server.
Register and be part of the experience!
If you have any questions about this event please contact us at hello@iotplus.network