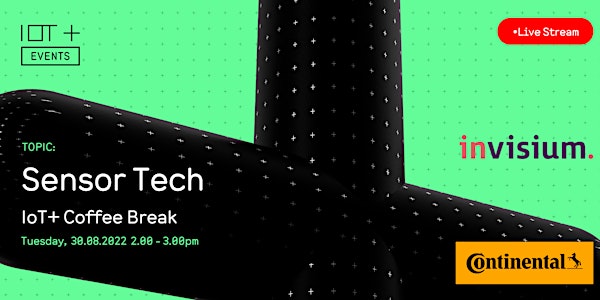 IoT+ Coffee Break: Sensor Tech
IoT+Sensors: Added value through applied IoT in sensor technology - relevance, examples, implementation possibilities
About this event
Learn more about how sensor technology enables data-driven business cases.
The basis of many successful data-driven business models to date, sensor technology and their applications are the focus of this event.
The data journey of any great IoT business case starts with the information that sensor technology can provide.
Speakers :
Rick Pannen / Innovation Lead Sensorics & Connectivity – Continental AG
Stephan Zweigler/ Managing Partner – invisium GmbH
Rick Pannen : Combining sensorics and machine learning for industrial applications.
Rick Pannen has been developing electronics for automotive, industrial and consumer products for 15+ years. At ContiTech, the industrial division of Continental he is heading the central R&D for integration of sensorics into various industrial products.
Rick will present a industrial and a sports application that are combining sensorics data and machine learning models.
The industrial example is an automated inspection system for large conveyor belts (up to 40km long) in the mining industry using RGB and thermal imaging from autonomous drones.
The sports application is a tool for golfers that combines Bluetooth force sensors in the shoes and image processing to optimize golf swings.
Continental AG, is a German multinational automotive parts manufacturing company
Stephan Zweigler: Cameras, today´s multisensors
After more than 15 years with various global market leaders in the automation industry - most recently as Head of Sales Industry at Diehl Connectivity Solutions - Stefan Zweigler founded the machine vision startup Invisium with a few former colleagues in 2020.
As experts in camera technology and robust vision solutions for smart factory integrations, among other things, Invisum brings together over one hundred man-years of experience in industrial image processing as well as know-how in sales and product management. The result is state-of-the-art networked optical solutions with modular interfaces for the integration of AI and (I)IoT systems. Invisium is a member of the IoT+ Network e.V. (www.iotplus.network)
Whether used in conjunction with AI, IoT or edge technology, cameras are multi-sensors that enable automatic detection that was previously unthinkable
If you have any questions please don't hesitate to contact us at hello@iotplus.network