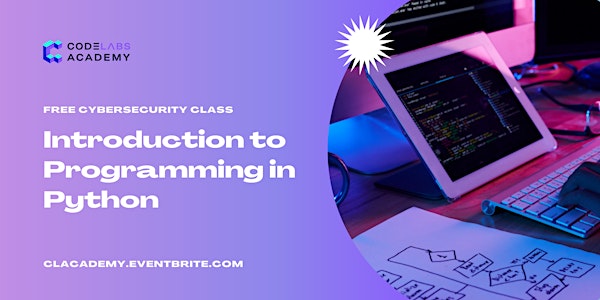 Introduction to programming with Python
Do you want to learn Python the right way? Our free workshop covers all the fundamental concepts you need to begin your journey with Python.
About this event
| About 📝
Python... who doesn't love this programming language? As a dynamic and beginner-friendly programming language, Python is used in almost every area of computer science nowadays. Be it machine learning, big data, cybersecurity or web programming, Python can be found anywhere. Join us in this free workshop to begin your journey with Python 3. We will go through its basics and demonstrate its most common commands and functions, as well as talk about some of its more intricate mechanisms.
|Prerequisites ✅
No requirements! Beginner-friendly
| Coming this January 📅
Cybersecurity Bootcamp
This program will enable you to launch your career in cybersecurity. You will study everything from the fundamentals, to the most modern techniques that businesses are looking for.
Make sure to follow our Eventbrite profile for future workshops in Cybersecurity, Data Science, Web Development, and UX/UI Design!
Check out our social media below:
By remaining on the call, you consent to these workshops being recorded for internal quality and training purposes. Please feel free to turn your cameras off if this makes you feel more comfortable.