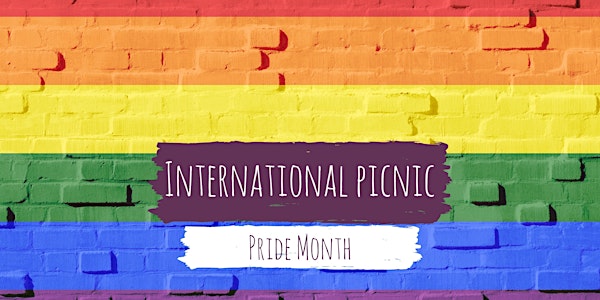 International Pride Picknick
Pride Month
When and where
Location
Grüneburgpark August-Siebert-Straße 22 Spielplatz Grüneburgpark Ost II neben das Park-Café 60323 Frankfurt am Main Germany
About this event
**English below
Juni ist Pride Month!
Der Pride Month steht für Stolz, Toleranz und Selbstbewusstsein und setzt ein Zeichen gegen die Kriminalisierung, Stigmatisierung und Ausgrenzung der LGBTQIA+ Community. Zu diesem Anlass laden wir euch herzlich zu unserem International Pride Picnic ein, um gemeinsam eine tolerantere Gesellschaft zu schaffen.
Lass uns mit Spiel und Spaß in den Austausch kommen und neue Bekanntschaften knüpfen.
Damit wir ein möglichst großes und buntes Picknick haben, bitten wir Dich deinen liebsten Snack mitzubringen :)
----------
June is Pride Month!
Pride Month stands for pride, tolerance and self-confidence and sets a sign against the criminalization, stigmatization and exclusion of the LGBTQIA+ community. On this occasion we invite you to our International Pride Picnic to contribute to a more tolerant society together.
Lets chat and meet new people from all over the world!
To create the biggest and most colorful picnic possible, we ask you to bring your favorite snack :)
Die Teilnahme ist für alle kostenfrei.
Falls du doch nicht kannst, melde dich bitte über frankfurt@ueberdentellerrand.org oder Eventbrite (Stornierung) wieder ab.
Bring gerne eine Dose mit, wenn du Essen mit nach Hause nehmen willst.
Wir freuen uns auf dich!
Dein Team von Über den Tellerrand Frankfurt e.V.
Foto-Hinweis:
Über den Tellerrand Frankfurt e.V. beabsichtigt, während dieser Veranstaltung Fotos und Videos aufzunehmen.
Diese wollen wir im Rahmen der Öffentlichkeitsarbeit auf unserer Internetseite sowie unseren Social Media-Kanälen (Facebook, Instagram, YouTube) veröffentlichen. Mit deiner Anmeldung erklärst du dich damit einverstanden.
Wenn du nicht veröffentlicht werden möchtest, schreib uns bitte eine Mail an frankfurt@ueberdentellerrand.org - vielen Dank für deine Hilfe.
Participation is free of charge for everyone.
If you can't make it, please cancel your registration via frankfurt@ueberdentellerrand.org or Eventbrite (cancellation).
We are looking forward to seeing you!
Your team from Über den Tellerrand Frankfurt e.V.
Photo Notice:
Über den Tellerrand Frankfurt e.V. intends to take photos and videos during this event.
We want to publish these as part of our marketing strategy on our website and social media channels (Facebook, Instagram, YouTube). With your registration you agree to this.
If you do not want to be published, please send us an email to frankfurt@ueberdentellerrand.org - thank you for your help.
Information about Über den Tellerrand Frankfurt e.V. :
At Über den Tellerrand, we create opportunities for people of different cultures to meet and get to know each other based on shared interests.
We bring together people as equals, creating opportunities for personal exchange and friendship between those with refugee or migration experience and without. At culinary, creative, and sporting events, people from different cultures regularly interact with and get to know and appreciate each other. This sustainable, worldwide network contributes to the creation of a more open and tolerant society.