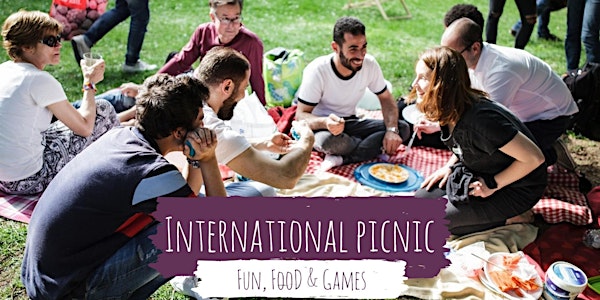 International Picnic
This is the perfect event to start your summer and to meet new people from all over the world!
When and where
Location
Spielplatz Grüneburgpark Süd Siesmayerstraße 60323 Frankfurt am Main Germany
About this event
Who doesn't love a picnic? Summer is around the corner, it's time to go outside and join our community for our international picnic. We will spend the afternoon together in Grüneburgpark and you will meet new people from all over the world - everyone is welcome.
Bring your friends, your favorite food and yourselves for a fun day under the sun! This event is family friendly, pack your stroller, diaper bag and come along!
We will provide some drinks, all YOU need to do is cook a dish or bring some snacks, grab your picnic blanket and come to Grüneburgpark :-) Outdoor games are welcome!
The picnic will take place on the lawn opposite the playground. After registration we will send you an E-Mail with a contact number you can call in case you can't find it.
Sign up now and join us! If you have any questions, feel free to contact us via frankfurt@ueberdentellerrand.org.
This event is 3G, please bring your 3G proof.
Participation is free of charge for everyone.
If you can't make it, please cancel your registration via frankfurt@ueberdentellerrand.org or Eventbrite (cancellation).
We are looking forward to seeing you!
Your team from Über den Tellerrand Frankfurt e.V.
Photo Notice:
Über den Tellerrand Frankfurt e.V. intends to take photos and videos during this event.
We want to publish these as part of our marketing strategy on our website and social media channels (Facebook, Instagram, YouTube). With your registration you agree to this.
If you do not want to be published, please send us an email to frankfurt@ueberdentellerrand.org - thank you for your help.
Information about Über den Tellerrand Frankfurt e.V. :
At Über den Tellerrand, we create opportunities for people of different cultures to meet and get to know each other based on shared interests.
We bring together people as equals, creating opportunities for personal exchange and friendship between those with refugee or migration experience and without. At culinary, creative, and sporting events, people from different cultures regularly interact with and get to know and appreciate each other. This sustainable, worldwide network contributes to the creation of a more open and tolerant society.