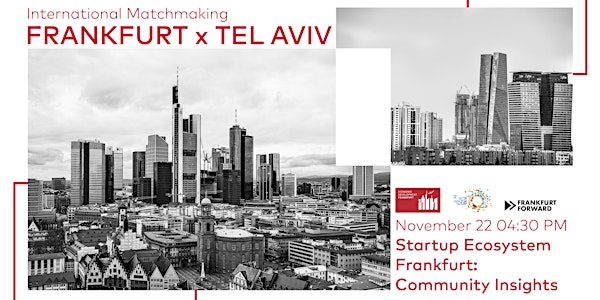 International Matchmaking | Community Insights Frankfurt
The third International Matchmaking will take place in November and December 2022: Frankfurt x Tel Aviv.
About this event
After our first two International Matchmakings in 2020 with Tallinn and 2021 with Lyon, we are now heading to Israel.
Together with partner Tel Aviv, the two startup ecosystems will be explored by participants on a local and national level. Tel Aviv is one of the hottest startup cities in the world and offers a wide range of opportunities in terms of support for startups.
On all days there will be closed, semi-public and public programme items.
During the two months, participants can expect numerous virtual programmes, accelerator sessions, panel discussions, pitches and, of course, plenty of networking opportunities. While some of the events, e.g. the 1:1 CEO/VC Lunch, are exclusively aimed at the participating start-ups, the evening events also offer fresh impulses and innovative best practices for the general public. To ensure an authentic programme, the events are organised proportionately by Frankfurt Forward and proportionately by our international cooperation partner. In addition, we work closely with local experts and organisations.
Today's Session is an semi-public session (participants by invitation only):
International Matchmaking | Community Insights
The Frankfurt startup ecosystem comes together to have a discussion on offers and possibilities for startups in the region. We will deep-dive into the ecosystem´s structures and how the respective startup can benefit from these structures. We'll go into the specifics of Frankfurt, but also the similarities to Tel Aviv. So far insights will be e.g. given by
Prof. Dr. Klaus-Michael Ahrend, Hub31
Tobias Kehl, Hessian AI
Hugo Paquin, TechQuartier Frankfurt
Dr. Detlef Terzenbach, StartHub Hessen
Carolin Wagner, Station Frankfurt
Each organization/initiative will briefly introduce itself, followed by a short discussion moderated by Christian W. Jakob.
We are looking forward to meeting all of our participants in this session!