Please visit our website to purchase the ticket https://www.thestartupclub.net/events.
About this event
After success of it's first event of this series, The Startup Club brings you another incredible opportunity to lead innovation in the Marketing & Media industry. The 2nd International Marketing & Media Tech Startup Pitching Forum is an industry-specific event helping entrepreneurs to match with investors and evaluate new opportunities. Entrepreneurs and startups in the field of Digital Media, MarTech, MediaTech, AdTech, and e-commerce are invited to present their projects and discuss with investors and industry experts.
Save the date: July 29, 11.00 AM Eastern Standard Time (US/Canada)
STARTUPS are invited to pitch at our event, where a panel of investors will be present. You will be given a 10-minute presentation slot, followed by questions and feedback from the Advisory Panel, and even interaction from the audience. Real-time feedback is provided to each startup that pitches.
INVESTORS are invited to connect with promising and investable startups.
ENTREPRENEURS, PROFESSIONALS and STUDENTS are invited to learn more about the Marketing & Media Tech ecosystem, discover exciting business models, and network to create valuable professional connections.
Attendees will gain insight and perspective to help them advance in every aspect of their businesses. We know that many entrepreneurs are pursuing the next innovation — a new technology, new marketing tactic, new training programs, etc. propel them to even greater heights.
Sponsorship Benefits are available upon request. For more information, please reach out to firas.malki@thestartupclub.net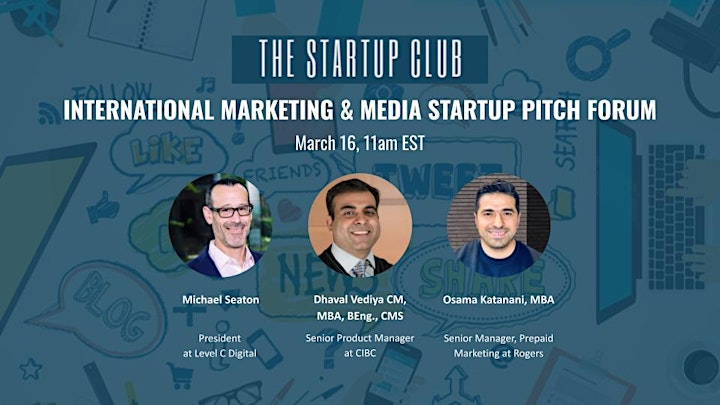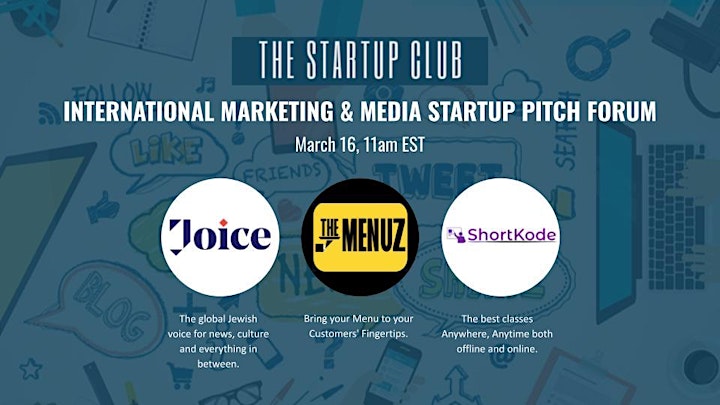 Organiser of International Marketing & Media Startup Pitch Forum II
The Startup Club is the one-stop-shop for the global startup community. We help entrepreneurs in their fundraising, development and growth journeys by connecting them with investors, advisors, mentors and other key players in the startup ecosystem across the world.
The Startup Club operates across a range of innovative and rapidly-growing industries: Healthcare, Food & Beverage, FinTech, DeepTech, EdTech, Fashion and Luxury, Real Estate and many more. Through a series of pitch nights and investor networking events, now happening online, we are able to connect entrepreneurs with Angel Groups, high net worth investors, venture capital firms, private equity funds and investment partnerships who attend from throughout the world, with a focus on both early and later-stage opportunities.