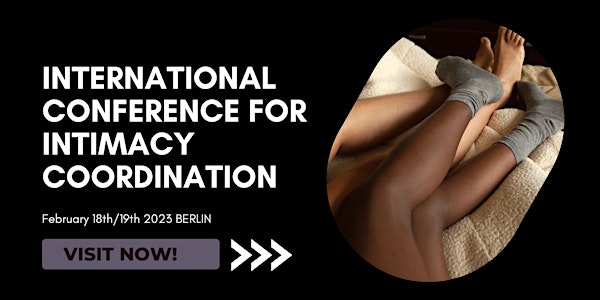 International Conference for Intimacy Coordination
Join two days full of input and expertise in the field of simulated intimacy and meet international guests from all over the world.
Zeit und Ort
Veranstaltungsort
Jugend- und Begegnungsstätte alte schmiede Spittastraße 40 10317 Berlin Germany
Karte und Wegbeschreibung
Rückerstattungsrichtlinie
Kontaktieren Sie den Veranstalter, um eine Rückerstattung anzufordern.
Zu diesem Event
1 Tag 10 Stunden

Mobile E-Tickets
We are thrilled to invite you to the first international symposium for scenic intimacy taking place in Germany. Set during Berlinale, we are proud to host two days full of public panels, non-public discussions, shared knowledge, input and networking. And don't forget the great food! (here is the menu)
We want to raise awareness for this important artform, and strengthen new forms of collaborations within the dramatic arts.
Experience from all over the world gathers – to discuss strategies, problems, cultural challenges, differences, best practice, and so on. We are more than thankful to welcome guests from Germany, Austria, Italy, Poland, Sweden, Spain, UK, Australia, Canada, South Africa, Israel and of course you!
The public event on Saturday is open for everybody, for example producers, actors, directors, dramaturgs, writers, DOPs, etc.
The events on Sunday are for Intimacy practitioners only. If you want to attend on Sunday, please send a CV to info@b-ik.art, which shows your experience. Without proof we can not ensure a ticket.
Conference language is english - if you need a translation, please inform us.
Since there is a lot going on those two days, we recommend taking the catering-option. You can easily stay at the conference, chat with other people, and network while having delicious and healthy food on side.
Do you have any questions, or need a press accreditation or a Karma Ticket (funded Ticket)? Please contact us: info@b-ik.art
Saturday, 18th – 9a.m. to 9 p.m.
Program - Public panels, workshops, lectures, practical input, lecture performances, panel discussions:
Program Sunday 19th – 9a.m. – 6.pm.
Closed set for ICs and IPs only – please register for your ticket via info@b-ik.art