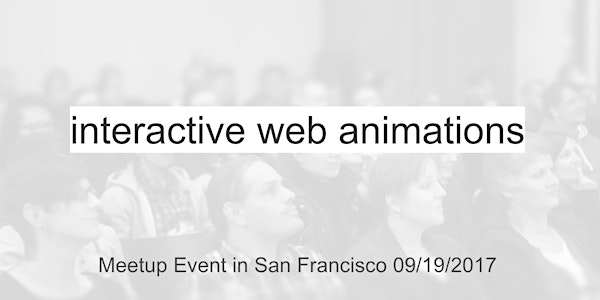 Interactive Web Animations Meetup
When and where
Location
WeWork SOMA 156 2nd Street San Francisco, CA 94105
Description
Interactive Web Animations - Tools, Workflows, Big Picture
A free community event for designers, creative coders, web enthusiasts
The modern web has become a first class design surface. This is essentially true for engaging, i.e. animated, interactive, responsive content for web and digital publications.
Yet there is an ongoing confusion in the aftermath of Flash regarding tools and technologies allowing designers and creative coders to create such content.

This event will give you a solid overview of the tools and workflows for digital storytelling and interactive web animations, explain potentials as well as challenges and encourage creatives to dive deeper into this fascinating world called modern web.

Experts will cover this topic in 3 sessions. Join us then for a panel discussion with Jonathan Deutsch, founder of the promising authoring tool Tumult Hype.
Want some more? Check out our special workshop offers on 09/16 and 09/23/2017 as well:
https://www.eventbrite.de/e/tumult-hype-from-0-to-hero-tickets-37211134505
https://www.eventbrite.de/e/adobe-animate-cc-from-0-to-hero-tickets-36582576471