Interactive Training & Teaching Strategies with Dr. Sivasailam Thiagarajan
About this Event
Facilitation strategies in training and teaching, interactive lectures, structured sharing activities, playing cards, game design, jolts, practical advice cards... simply the best training and teaching tools!
Four Laws of Instructional Design in Education
Let the inmates run the asylum – Empower participants to process the content and discuss them with each other.
Build the airplane while flying it – Design training and teaching while delivering it.
Don't reinvent the wheel – Don't design content, design the activity. Use templates that have been field-tested.
Be spontaneously flexible – Combine, omit, and re-sequence the steps in the instructional design process.
Learning Experience with Thiagi
The seven different ways of how people learn in our training sessions leverage multiple intelligences and cater to different learning styles:
Learn from experience. The workshops feature effective and enjoyable training games and learning activities.
Listen to interactive lectures. Our presentations are interspersed with interactive interludes.
Learn by doing. Our approach to activity-based learning ensures that you are able to use the techniques immediately.
Learn by reflecting. We use effective debriefing techniques to help you reflect on your experiences, gain valuable insights, and share them with each other.
Learn from each other. Our activities incorporate the power of mutual learning among collaborative teams.
Learn from the website. The website www.thiagi.com contains 200 ready-to-use training games and 2000 pages of practical advice.
Learn continuously something new every month. As a participant our workshops, you receive a monthly online newsletter with new games and tools.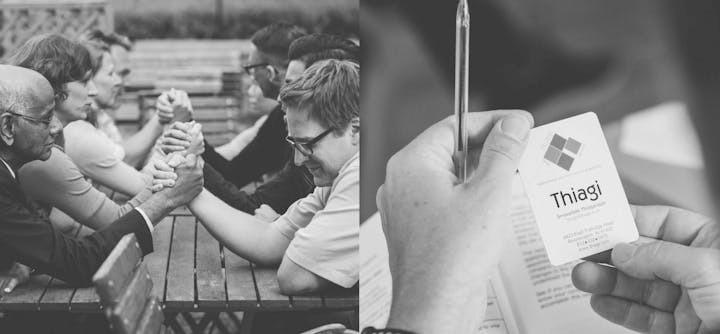 Facilitator Thiagi
Dr. Sivasailam "Thiagi" Thiagarajan is the CEO of Thiagi, Inc. He is helping professionals improve their performance effectively and enjoyably. Internationally recognized as an expert in active learning, Thiagi has conducted training workshops in 24 countries. He has worked with more than 50 different organizations in high-tech, financial services, and management consulting areas. Thiagi has published 40 books, 90 games and simulations, and more than 200 articles.This is what two experts have to say about Thiagi's special talents in designing and delivering training games and learning activities:Glenn Parker, author of Team Players and Teamwork: "Quite simply, Thiagi is the most prolific and creative designer of games and simulations in the world."Mel Silberman, author of Active Training and 101 Ways to Make Training More Active: "Thiagi's training games are always ingenious, easy to conduct, and open to several learning points."
Co-Facilitator Alexander Schiller
Dr. ès sc. habil. Schiller is a full-time trainer for transferable skills with Schiller & Mertens. He is a "Certified Facilitator" with the Thiagi Group and member in the "Berufsverband für Training, Beratung und Coaching" (BDVT). Dr. Schiller gathered a 16-years teaching experience at LMU Munich (D), EPF Lausanne (CH), UC Santa Cruz (USA), and FSU Jena (D). The DFG Heisenberg fellow Dr. Schiller was a junior professor from 2009 to 2017. His experience as chemist, researcher and group leader enables him to focus on the real needs of scientists. Moreover, he uses examples from everyday life in the laboratory. From his courses given so far since 2011, graduate students, postdocs, junior group leaders, lecturers, professors, and directors feedback that they can directly apply in everyday life what they learned. He offers with Schiller & Mertens the full range of transferable skills courses, e.g. Good Scientific Practice, Communication, Presentation, Creativity, Leadership & Teams, Negotiation, Conflict & Collaboration, Academic Teaching, Career Development, Train-the-trainer… etc. Dr. Schiller collaborated with Thiagi in designing this workshop "Interactive Training and Teaching Strategies" in Germany. He will also work with Thiagi as a co-facilitator during the workshops to ensure appropriate fit with the German cultural and organizational context and to provide additional coaching and editing help to the participants.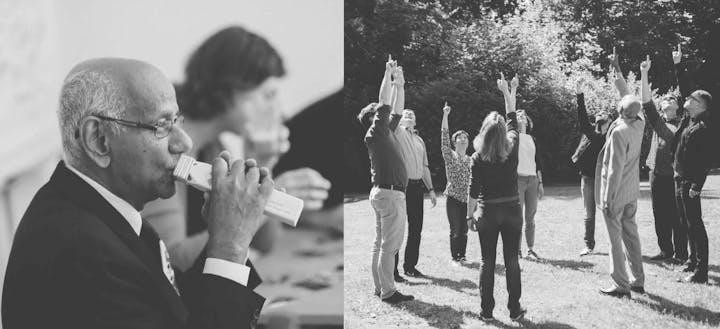 Feedback on Thiagi's workshops
"Thiagi's course gave me new concrete tools to use right away, and inspiration to continuously improve my own existing training programs and conference concepts. " by Ann Hansen, annhansen concept+competence, Denmark
"I've received not only very concrete games, but also the structure and practical techniques to design appropriate interactive techniques for all kinds of situations. I feel more complete in my profession! " by Thea Draijer, Draijer Management, Netherlands
"Powerful. Inspiring. Hands-on. One-of-a-kind opportunity. बहुत धन्यवाद्." by Julian Kea, Business Skills Trainer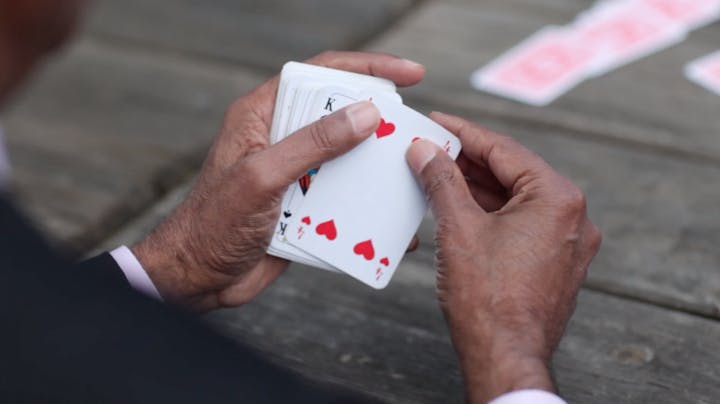 Please note: Cancellation
Refund of fees (minus a EUR 300,– cancellation fee) will be made after receipt of a written request in accordance with the following policy: 100 % – 60 days prior, 50 % – 30 days prior to the first day of course. Cancellation due to illness or death of both facilitators: reimbursement of full course fees. In case of illness or death of one facilitator, the workshop will be given by the second one alone. No other reimbursements will be made.
Accommodation
We recommend the following hotels where the workshops take place and where we have been able to reserve a limited number of rooms at a reduced rate until end of March 2019. Reservations should be made directly by participants at the hotel. Important: We recommend early reservation, as the number of reserved rooms is limited on a first-come-first-served basis.