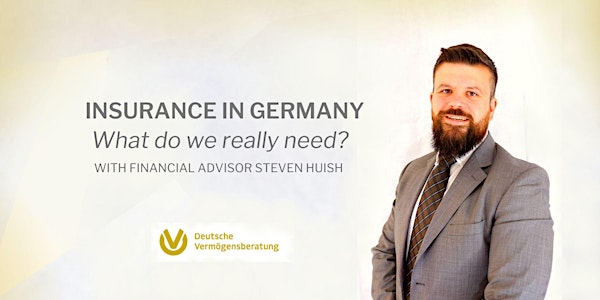 Insurance in Germany: What do we really need? | Info, Networking & Art
Learn about the different insurances in Germany and the ones relevant to you
When and where
Location
Torres Nieto Fine Arts Theresienstraße 19 (entrance Fürstenstraße) 80333 München Germany
About this event
Whether you're new to the topic of German insurances, quite up to date with the current developments, or fairly comfortable with the key concepts, our goal this evening is to provide useful information to help you make smart choices about which insurance you actually need; particularly in a city like Munich.
We will start with a casual and interactive information session by financial advisor Steven Huish from DVAG and continue the evening with networking while enjoying a few drinks on the house together.
DVAG
DVAG is one of the largest Financial Advisory firms in Germany. During its 45 year history, it has developed relationships with over 8 million clients and continues to receive industry awards for customer service. In recognition of the increasingly globalised working trends and growing expat community within Germany, DVAG has teams who are not only comfortable speaking finance, but also speak English and a variety of other languages to help make the German financial system more accessible.
Torres Nieto Fine Arts
This event will take place at art gallery Torres Nieto Fine Arts located in the university area in the middle of Munich's cultural neighbourhood. This art gallery specialised in Old Master Paintings also exhibits an exquisite collection of modern art paintings, silver, porcelain and ethnographic objects.
Health & safety
Up to 12 participants are welcome to join. Local regulations regarding health & safety apply
Tickets
€10 - drinks included (excl. ticket fees + VAT)
This event is an harmonious collaboration between financial advisor Steven Huish, Torres Nieto Fine Arts and BLENT // Crowd Mixology.
→ Follow us on IG: @blent.me