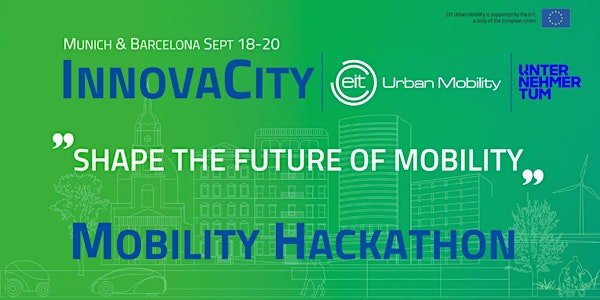 InnovaCity Munich-Barcelona | Mobility Hackathon Online
InnovaCity is a 48-hour hackathon bringing together innovators, entrepreneurs, companies, and cities to shape the future of urban mobility.
About this event
In a Nutshell
**This event is open to worldwide participation to help solve the mobility challenges of Munich & Barcelona**
Do you want to shape the future of mobility in Europe? Are you interested in expanding your network? Do you have an entrepreneurial mindset? Do you have unique skills or experience that will help create mobility solutions? Then InnovaCity is perfect for you!
About InnovaCity: we organize Europe's Largest Mobility Competition with three online hackathons that bring together innovators, entrepreneurs, companies, and cities to shape the future of urban mobility.
InnovaCity Munich-Barcelona Hackathon Building on the huge success of InnovaCity in 2019 this is the first of three pan-European Hackathons in 2020 aiming to create actionable solutions for some of our biggest mobility challenges!
Join us for InnovaCity Munich-Barcelona
TACKLE the biggest mobility challenges presented by the Cities of Munich and Barcelona
LEARN how to use design thinking to create customer-centric solutions from our international team of mobility and startup experts.
APPLY these essential skills in multi-disciplinary teams with people from all over the world from mobility professionals and municipalities to entrepreneurs and corporates.
GROW your network with Europe's most important mobility organization - EIT Urban Mobility and join our community of mobility experts & entrepreneurs shaping the future of mobility in Europe.
BUILD actionable solutions that will address one of the city challenges to shape the future of your city!
PITCH your team's idea to a jury of mobility experts from across Europe
WIN some awesome prizes that will help take your solution from idea to action!
🌎 GLOBAL WEEK 🌎
The winning team will be invited to our Global Week event in December with a business development workshop and final pitch competition in front of key decision-makers from the urban mobility sector.
Join us and stamp your mark on the future of urban mobility in Europe!
Who can apply?
We're bringing together innovators, entrepreneurs, companies, and cities to shape the future of urban mobility.
JOIN US!
Employees of a city, charged with mobility questions
Employees of a corporate, active in the mobility domain
Entrepreneurs, active in urban mobility
Students and researchers, eager to solve mobility challenges
Citizens, who want to shape mobility in their own city
Prizes
As the first hackathon is a collaboration between the cities of Munich and Barcelona a joint first-place prize will be awarded for the top team addressing a challenge from Munich City and the top team addressing challenges from Barcelona CIty.
InnovaCity Munich-Barcelona (Sept 18 – 20)
1st Place 🥇
Join the Xplore Bootcamp at UnternehmerTUM (Oct 6 – 8) 🦄
3 day startup bootcamp
8 weeks coaching
Eligibility for up to €10k prototyping grant
2nd Place 🥈
Ticket to Bits & Pretzels 2020 (Sept 27 – Oct 2) 🥨
3rd place 🥉
Prototyping Voucher for MakerSpace 🔧
⚡ Stay tuned for some big global week prizes! ⚡
* Terms & Conditions You are welcome to join one, two of three of the hackathons planned for 2020. However, teams that receive any prize (1st, 2nd, or 3rd place prizes) during a hackathon are not eligible for participation in any other InnovaCity Hackathon in 2020.
To see the full Terms & Conditions from InnovaCity please click HERE
InnovaCity Munich-Barcelona Agenda
[ LIGHT KICKOFF ]
Thursday, Sept 17th (18:00 - 20:30 CEST)
Mobility Meet & Mingle (to be announced via meetup.com)
[ HACKATHON ]
Friday, Sept 18th (16:00 - 20:00 CEST)
Ideate | Form Teams | Select Challenges | Networking
Saturday, Sept 19th (09:30 - 17:00 CEST)
Gathering Insights | Develop Solutions | Test Solutions
Sunday, Sept 20th (09:00 - 17:00 CEST)
Develop Pitches | Final Pitch Event | Networking
Global Week (Online)
*Sample agenda dates to be confirmed shortly (planned for early Dec 2020)
Day 1 (09:00 - 18:00 CEST)
Virtual City Tour | Business Model Development | Next Steps Planning | Pitch Training
Day 2 (09:00 - 16:00 CEST)
Pitch Practice | Pitch Event in front of jury | Winners & Networking
Day 3 (09:00 - 16:00 CEST)
Inspirational Talks by Successful Mobility Companies | Networking
Tickets
Professional Ticket for any working professionals, companies, municipality staff, researchers, entrepreneurs, innovators, and startups.
Student /Citizen Ticket for anyone currently registered at an educational institute such as a university.
Waivers We want there to be no barriers for entrepreneurship. If you cannot afford a ticket please apply for a waiver (this option is available in the ticket section)
Timeline
In 2020 we will host 3 online hackathons as part of our European Mobility Competition.
The winning team from each Hackathon will be invited to Global Week in December 2020. During Global Week the top teams from each hub will battle it out on the international stage for a grand prize (to be announced shortly!).
Choose the fitting hackathon for your City Hub experience
* Dates for Tel Aviv, Helsinki & Global Week to be confirmed and announced shortly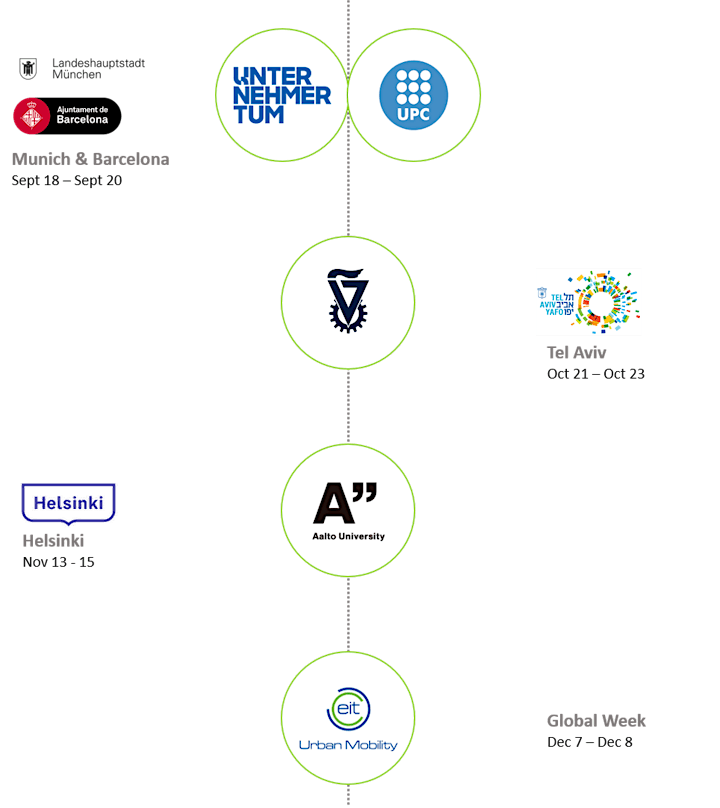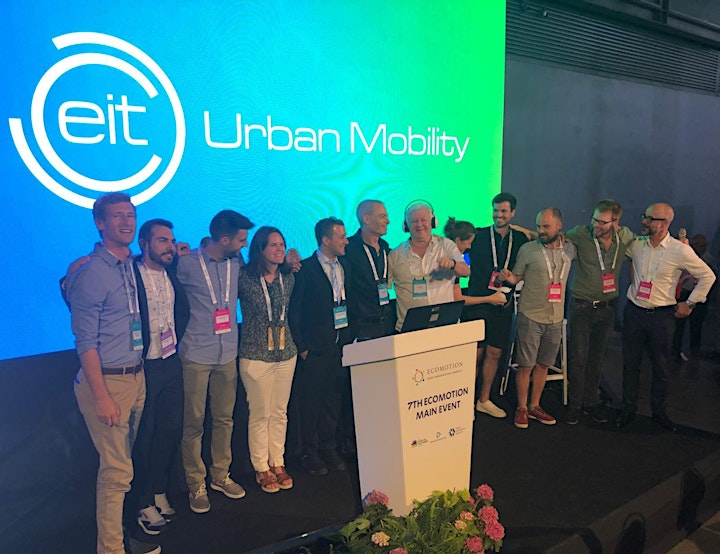 Above: Winners from InnovaCity 2019 receiving their award at EcoMotion in Tel-Aviv, Israel.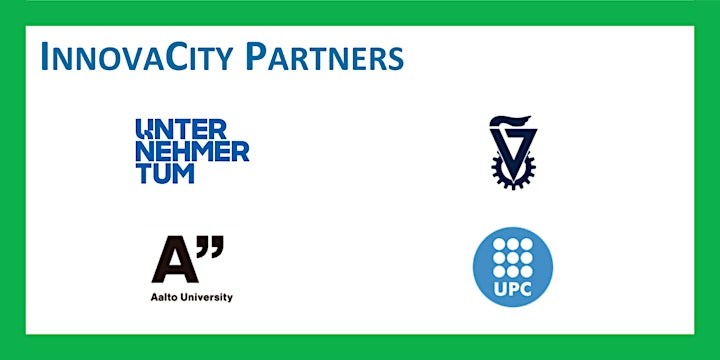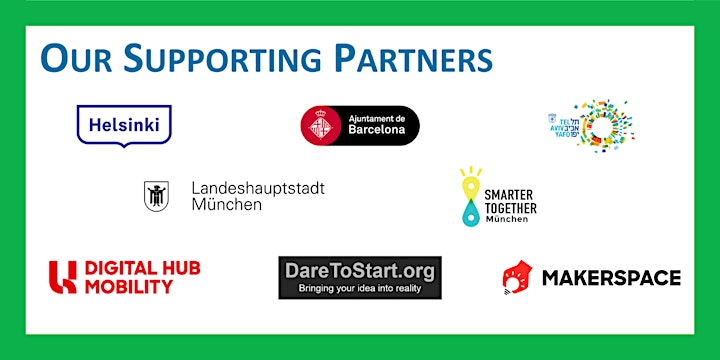 ------------------------------------------------------
*Please be aware that the entire program will be held in English.
InnovaCity is funded by EIT Urban Mobility, an initiative of the European Institute of Innovation and Technology (EIT). EIT Urban Mobility acts to accelerate positive change on mobility to make urban spaces more liveable.
Learn more about EIT Urban Mobility here.
Learn more about the European Institute of Innovation and Technology here.
For more information about InnovaCity please click here!