Sales Have Ended
Registrations are closed
Thanks for registering! You will get an email shortly with a zoom link for our event! Make sure to join our Mobility Meet & Mingle meetup! This is our community of mobility innovators and enthusiasts! We meet once per month to hear an inspiring talk and connect with people from across the globe. Check out our community here: https://www.meetup.com/Urban-Mobility-Innovators/ Check out our next event on Nov 4th here: https://www.meetup.com/Urban-Mobility-Innovators/events/273799082/ STAY UP TO DATE To stay informed on all the latest startup and urban mobility news make sure to sign up for our newsletters: UnternehmerTUM https://mailchi.mp/unternehmertum/event-newsletter EIT Urban Mobility https://www.eiturbanmobility.eu/subscribe/
Sales Have Ended
Registrations are closed
Thanks for registering! You will get an email shortly with a zoom link for our event! Make sure to join our Mobility Meet & Mingle meetup! This is our community of mobility innovators and enthusiasts! We meet once per month to hear an inspiring talk and connect with people from across the globe. Check out our community here: https://www.meetup.com/Urban-Mobility-Innovators/ Check out our next event on Nov 4th here: https://www.meetup.com/Urban-Mobility-Innovators/events/273799082/ STAY UP TO DATE To stay informed on all the latest startup and urban mobility news make sure to sign up for our newsletters: UnternehmerTUM https://mailchi.mp/unternehmertum/event-newsletter EIT Urban Mobility https://www.eiturbanmobility.eu/subscribe/
InnovaCity is a 48-hour hackathon bringing together innovators, entrepreneurs, companies, and cities to shape the future of urban mobility.
About this Event
In a Nutshell
**This event is open to worldwide participation to help solve the strategic mobility challenges of Helsinki Municipality**
Do you want to shape the future of mobility in Europe? Are you interested in expanding your network? Do you have an entrepreneurial mindset? Do you have unique skills or experience that will help create mobility solutions? Then InnovaCity is perfect for you!
About InnovaCity: we organize Europe's Largest Mobility Competition with three online hackathons that bring together innovators, entrepreneurs, companies, and cities to shape the future of urban mobility.
InnovaCity Helsinki Hackathon Building on the huge success of InnovaCity in 2019 this is our third and final pan-European Hackathon in 2020 aiming to create actionable solutions for some of our biggest mobility challenges!
The Helsinki Challenges
The Helsinki Regional Transportation Authority is seeking solutions for the following challenges
Bring back trust in public transportation during COVID-19
Tackling urban mobility for four seasons of weather
Check out our challenges document for more detailed info and resources for these two challenges.
Join us for InnovaCity Helsinki
TACKLE the biggest mobility challenge presented by the Helsinki Regional Transportation Authority
LEARN how to use design thinking to create customer-centric solutions from our international team of mobility and startup experts.
APPLY these essential skills in multi-disciplinary teams with people from all over the world from mobility professionals and municipalities to entrepreneurs and corporates.
GROW your network with Europe's most important mobility organization - EIT Urban Mobility and join our community of mobility experts & entrepreneurs shaping the future of mobility in Europe.
BUILD actionable solutions that will address one of the city challenges to shape the future of your city!
PITCH your team's idea to a jury of mobility experts from across Europe
WIN some awesome prizes that will help take your solution from idea to action!
🌎 GLOBAL WEEK 🌎
The winning team will be invited to our Global Week event in December with a business development workshop and final pitch competition in front of key decision-makers from the urban mobility sector.
Join us and stamp your mark on the future of urban mobility in Europe and Israel!
Who can apply?
We're bringing together innovators, entrepreneurs, companies, and cities to shape the future of urban mobility.
JOIN US!
Employees of a city, charged with mobility questions
Employees of a corporate, active in the mobility domain
Entrepreneurs, active in urban mobility
Students and researchers, eager to solve mobility challenges
Citizens, who want to shape mobility in their own city
Prizes
1st Place 🥇
A chance to pitch your idea on the global stage as part of our Global week in Dec🦄
Global Week 1 Day Business Bootcamp (Dec 2020)
Access to the EIT Urban Mobility Summit from Dec 9 - 11
Global Pitch Event in front of international experts from the EIT Urban Mobility Network
Mentorship & coaching from our team of experts
Membership for Node by Slush (Europe's largest curated community that connects startups with investors, partners, and mentors)
2nd Place 🥈
3rd Place 🥈
⚡ Stay tuned for some big global week prizes! ⚡
* Terms & Conditions You are welcome to join one, two of three of the hackathons planned for 2020. However, teams that receive any prize (1st, 2nd, or 3rd place prizes) during a hackathon are not eligible for participation in any other InnovaCity Hackathon in 2020.
To see the full Terms & Conditions from InnovaCity please click HERE
InnovaCity Helsinki Agenda
[ HACKATHON ]
Friday, Nov 13th (16:00 - 20:00 CEST)
Challenges | Form Teams | Problem Statements
Saturday, Nov 14th (09:00 - 19:00 CEST)
Customer Interviews | Citizen Round Table | Ideation | Prototyping
Sunday, Nov 15th (09:00 - 18:00 CEST)
Finalizing Solutions | Develop Pitches | Final Pitch Event | Networking
Global Week (Online)
*Sample agenda dates to be confirmed shortly (planned for early Dec 2020)
Day 1 (09:00 - 18:00 CEST)
Virtual City Tour | Business Model Development | Next Steps Planning | Pitch Training
Day 2 (09:00 - 16:00 CEST)
Pitch Practice | Pitch Event in front of jury | Winners & Networking
Day 3 (09:00 - 16:00 CEST)
Inspirational Talks by Successful Mobility Companies | Networking
Tickets
Professional Ticket for any working professionals, companies, municipality staff, researchers, entrepreneurs, innovators, and startups.
Student /Citizen Ticket for anyone currently registered at an educational institute such as a university.
Free Tickets We want there to be no barriers for entrepreneurship. If you cannot afford a ticket please contact the organizers for a discount code (this code can be applied while ordering your ticket to reveal the hidden free ticket option)
Timeline
In 2020 we will host 3 online hackathons as part of our European Mobility Competition.
The winning team from each Hackathon will be invited to Global Week in December 2020. During Global Week the top teams from each hub will battle it out on the international stage for a grand prize (to be announced shortly!).
Choose the fitting hackathon for your City Hub experience
* Dates for Tel Aviv, Helsinki & Global Week to be confirmed and announced shortly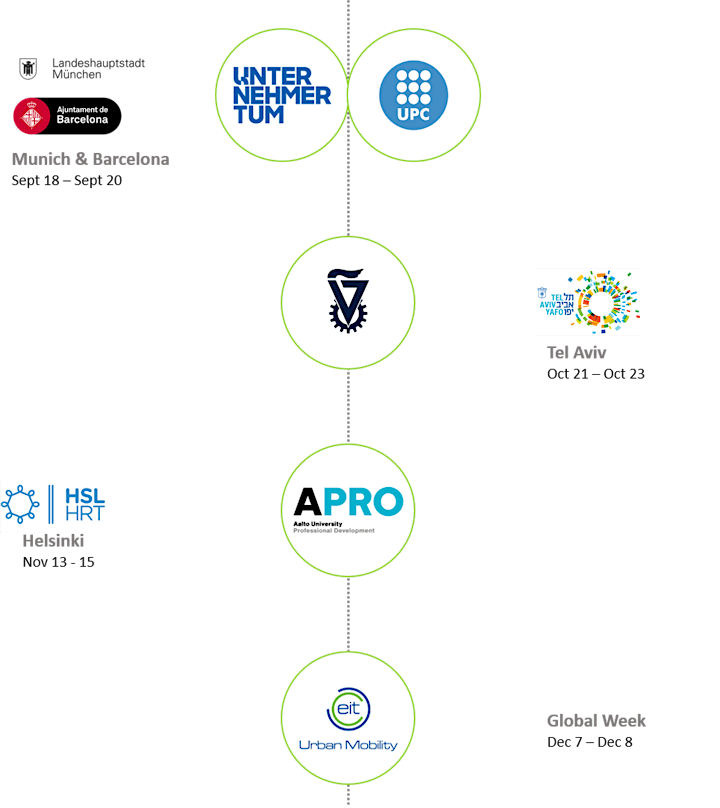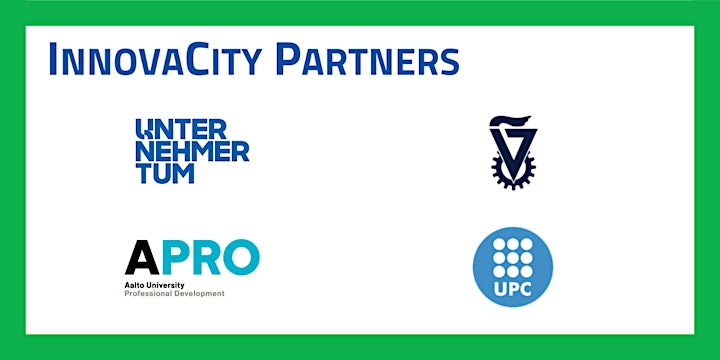 ------------------------------------------------------
*Please be aware that the entire program will be held in English.
InnovaCity is funded by EIT Urban Mobility, an initiative of the European Institute of Innovation and Technology (EIT). EIT Urban Mobility acts to accelerate positive change on mobility to make urban spaces more liveable.
Learn more about EIT Urban Mobility here.
Learn more about the European Institute of Innovation and Technology here.
For more information about InnovaCity please click here!
FAQ
Have questions? check out our FAQ document by clicking HERE!
Terms & Conditions
To see the full Terms & Conditions from InnovaCity please click HERE
HOW IT WORKS
1 - REGISTER
Just select your ticket on Eventbrite and you're good to go!
2 - FORM TEAMS
After registering we'll add you to our slack channel where you can engage with other participants and coaches, pitch your idea to form a team, or support someone else in bringing their idea to life!
Teams need to have a minimum of 3 and a maximum of 5 members. Once your team is ready we'll create a private channel so you can all chat together!
3 - HACK
Join us on Friday, Nov 13th for an exciting two and a half days where we will take you from idea to action and help you create an awesome solution!
In case you don't have a team by this date not to worry - there will be still an opportunity to form new teams on day 1 of the Hackathon!