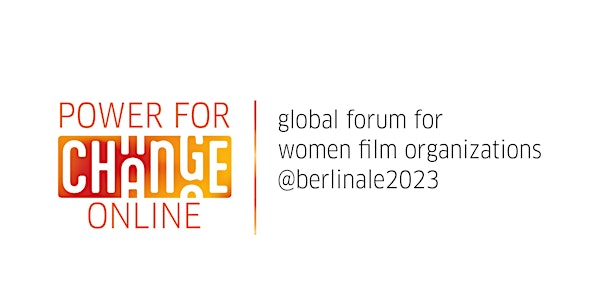 INNER CIRCLE global forum for women film organizations @berlinale | ONLINE
NON-PUBLIC part of the global forum for women film organizations @berlinale2023 | Feb 17th | 12 am-1.30pm
Date and time
Fri, Feb 17, 2023 3:00 AM - 4:30 AM PST
About this event
Please register here for the non-public part of the global forum for women film organizations @berlinale2023 if you plan to attend online via Zoom.
In the non-publich part of the event, we will reflect with international women's film organizations on how the Corona Pandemic has brought about unique challenges for women and for our work for a gender-balanced film industry. We ask the question: What can a new path forward look like?
Prior to that, the forum start with a panel: we shine a light on the work of women filmmakers who operate in war zones and other areas of danger and conflict currently shaking the world. We will amplify and highlight the importance of female voices during times of crisis and in authoritarian regimes. We have invited female filmmakers from Afghanistan, Iran and Ukraine to share their perspectives.
The panel will be recorded and available for online streaming the day after, on Feb 18th.
FEB 17th | ONLINE
NON-PUBLIC PART : 12.00-1.30 pm