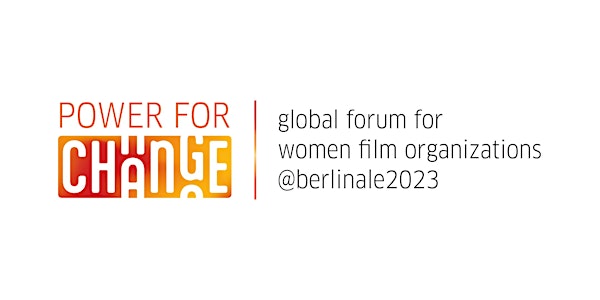 INNER CIRCLE global forum for women film organizations @berlinale | ON-SITE
NON-PUBLIC part of the global forum for women film organizations @berlinale2023 | Feb 17th | 10am-1.30pm
Date and time
Fri, Feb 17, 2023 10:00 AM - 1:30 PM CET
Location
Botschaft von Kanada Leipziger Platz 17 10117 Berlin Germany
About this event
Please register here for the non-public part of the global forum for women film organizations @berlinale2023 if you plan to attend in person at the Embassy of Canada to Germany, Leipziger Platz 17, 10117 Berlin.
In the initial public part of the event, which is open to all, we shine a light on the work of women filmmakers who operate in war zones and other areas of danger and conflict currently shaking the world.
We will amplify and highlight the importance of female voices during times of crisis and in authoritarian regimes. We have invited female filmmakers from Afghanistan, Iran and Ukraine to share their perspectives.
In the subsequent closed part to the event, we will reflect with international women's film organizations on how the Corona Pandemic has brought about unique challenges for women and for our work for a gender-balanced film industry. We ask the question: What can a new path forward look like?
FEB 17th | Embassy of Canada to Germany, Leipziger Platz 17, 10117 Berlin
PUBLIC PART: 10-11.30 am | ADMISSION 9.30 am
NON-PUBLIC PART: 12.00-1.30 pm | ADMISSION 11.30 am
Please note:
Entry will only be granted with a valid ID or passport and a registration confirmation. To ensure a swift registration process on the day of the event, we will not allow any large bags to the venue. Please take this into account while planning your arrival.
We encourage all participants to perform a COVID-19 rapid antigen self test prior to the event.