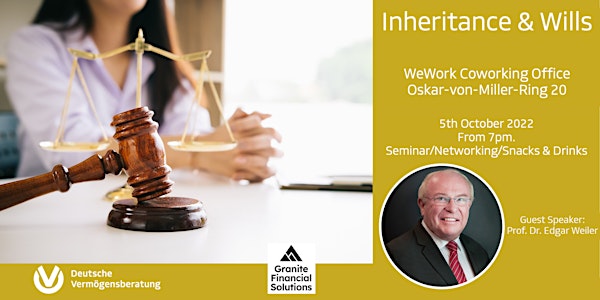 Inheritance and Wills
An interactive and engaging seminar diving into the law around Inheritance & Wills in Germany
When and where
Location
WeWork - Office Space & Coworking Oskar-von-Miller-Ring 20 80333 München Germany
About this event
Having spent a great amount of time and effort building your wealth, you'll most likely want to be certain that should you pass away, it is distributed to the people you care about most in a tax efficient way. During this seminar, will we talk about how German law approaches Inheritance and Wills, including topics such as if somebody dies intestate (without a will) and how much tax inheritors can expect to pay based on asset value.
About our Speaker
Our guest speaker for this event is Professor Dr. Edgar Weiler. He began his professional career in Hessen after completing his studies in Mainz. After several years of successful practice as a lawyer in Frankfurt am Main, he moved to Marburg as a legal advisor to Deutsche Vermögensberatung AG (DVAG). Prof. Dr. Weiler teaches at the local Philipps University in Marburg, at the Research Centre for Financial Services Law and holds an honorary professorship.
Prof. Dr. Weiler's goal is to convey complicated legal issues in a concise and humorous manner - whether in front of students at the university or as part of events for entrepreneurs or clients.
He is also an active member of the Board of Trustees of Care Germany.
In recognition of his social commitment, Prof. Dr. Weiler was awarded the Order of Merit of the Federal Republic of Germany.
Granite Financial Solutions/DVAG
Hosting this event is Granite Financial Solutions, an associate of Deutsche Vermögensberatung AG (DVAG). DVAG is one of the largest Financial Advisory firms in Germany. During its 45 year history, it has developed relationships with over 8 million clients and continues to receive industry awards for customer service. In recognition of the increasingly globalised working trends and growing expat community within Germany, DVAG has teams who are not only comfortable speaking finance, but also speak English and a variety of other languages to help make the German financial system more accessible.