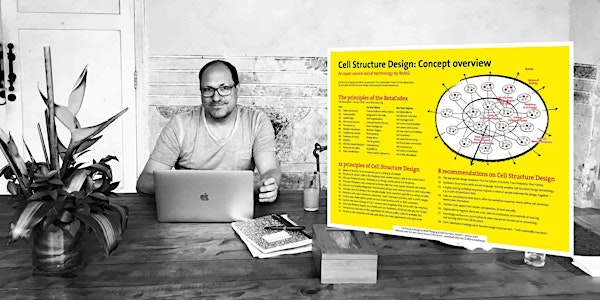 Info Hour: Cell Structure Design
Niels Pflaeging, Cell Structure Design co-creator, will host this free-of-charge session about the innovative, open source social technology
About this event
WHO SHOULD ATTEND AND WHY? You are new to Cell Structure Design -sometimes referred to as "the peach model", "decentralized network organization", "Beta" or "Beyond Budgeting" - and interested in learning more about it? You have heard or read a few things about Cell Structure Design, but are not sure yet if this is the right approach for your organization or your clients? You are keen on learning more about this innovative take on org design that takes complexity and human nature into account?
ABOUT THE EVENT. This free-of-charge "Info Hour", or introductory session will provide you with:
facts about the origins, content and unique features of Cell Structure Design, and why it was developed at all.
knowledge around key aspects and elements of Cell Structure Design, and their interaction.
recommendations with regards to necessary pre-conditions for its application.
All questions around Cell Structure Design and about organizational decentralization are allowed and will be answered by Niels. Niels will also share his experience about the use of Cell Structure Design in dozens of organizations he worked with since 2006.
SESSION FLOW. Total session time will be approximately 75 minutes. It follows a simple structure: Niels will first provide a lot of information and context on Cell Structure Design - this will take 45 to 60 minutes. He will then answer all questions from participants posted in the sessions´ chat function – one by one, no restrictions.
The Info Hour will be run on Zoom.
THIS IS NEITHER A WORKSHOP, NOR A SEMINAR OR TRAINING. It is an info talk with the aim of providing information, detail, and context. The session will NOT be recorded. You do NOT need a camera to participate. You can register anonymously, if you like.
For all inquiries: contact claudia.keller@redforty2.com
Please share this invitation with colleagues, peers and friends!
For more information about Cell Structure Design, check out the info page on the Work the System website and read the BetaCodex Network white paper.