About this Event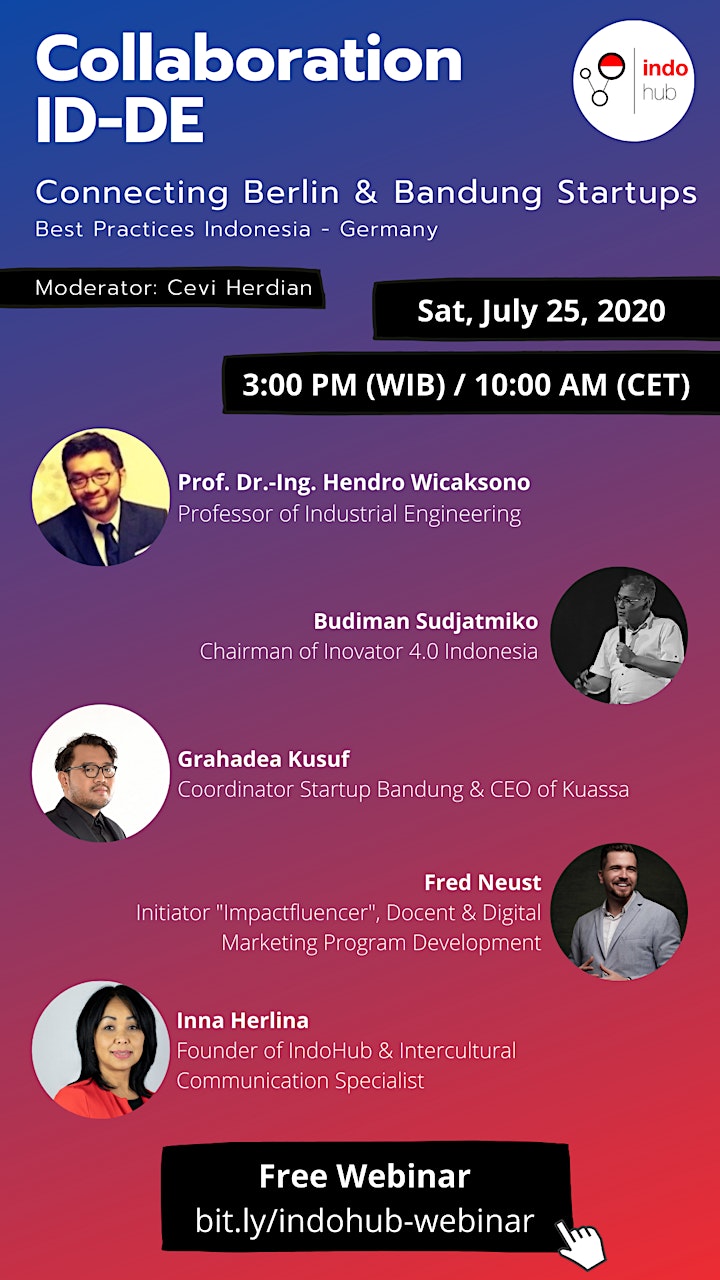 Webinar diselenggarakan oleh IndoHub. IndoHub adalah asosiasi nirlaba berbasis di kota Berlin, bertujuan mempromosikan kerja sama antara Indonesia dan Jerman, khususnya pada penyediaan akses untuk pertukaran innovasi dan perkembangan di bidang Industri 4.0 secara berkelanjutan mendukung entrepreneurship dan startups.
Jerman adalah negara yang pertama kali mencetuskan konsep industry 4.0. Pemerintah Jerman kemudian menjadikan industry 4.0 strategi ekonomi dan teknologi masa depan nasional yang dilengkapi dengan program-program percepatan inovasi di berbagai sektor.
Berlin-Bandung Startups sedang Booming, kedua kota ini punya persamaan merupakan kota kreatif dan kota Startups. Potensial kolaberasi innovasi apa saja antar kedua kota ini?
Tertarik berpartisipasi? Silakan registrasi Free Webinar.
---
The webinar is hosted by IndoHub which is a Berlin-based non-profit association whose goal is to promote cooperation between Indonesia and Germany, and in particular to provide access to the exchange of innovations and developments in Industry 4.0 in a sustainable way to foster entrepreneurship and start-ups.
Germany is the country that shaped the concept of Industry 4.0. In response, the German government made Industry 4.0 a future national economic and technology strategy, which was supplemented by programs to accelerate innovation in various sectors.
Berlin and Bandung based start-ups are booming. These two cities have something in common: a creative business scene and a vibrant entrepreneurial spirit. What happens if we bring those two ecosystems together? Are synergy effects possible?
Eager to learn more? Participate in our free-of-charge webinar.
Attention: The Session will be mainly in Bahasa Indonesia.
Agenda
Event & IndoHub Introduction (Inna)
Industry 4.0 DE-ID (Prof. Dr. Hendro)
Grassroot Innovation (Budiman Sudjatmiko)
Start up Bandung (Grahadea Kusuf)
Sosial Media Influencer ( Fred Neust)
Q & A
End of event