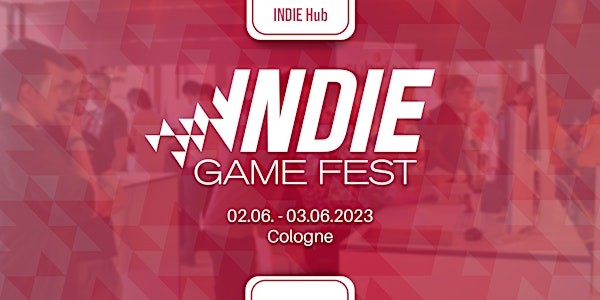 Indie Game Fest 2023
An event for all people who are interested in Indie Games with the possibility to play games, network and exchange ideas.
By INDIE Hub UG (haftungsbeschränkt)
Date and time
June 2 · 1pm - June 3 · 9pm CEST
Location
Wasserturm Hotel Cologne Kaygasse 2 50676 Köln Germany
Refund Policy
Refunds up to 30 days before event
About this event
1 day 8 hours

Mobile eTicket
Introducing Indie Game Fest 2023 - a celebration of independent gaming culture, taking place on June 2nd - 3rd in Cologne! Whether you're a passionate gamer, an (experienced) professional or a creative indie developer, this two-day event promises to be an unforgettable experience filled with indie games. Get ready to immerse yourself in the world of indie games and connect with fellow fans and industry leaders from Germany and Europe. Don't miss your chance to be a part of this exciting event, grab your tickets now!
At the Wasserturm Hotel Cologne, 35+ studios will be able to exhibit their games in front of trade visitors and passionate gamers.
Free Portfolio Review: In 2022, the demand for this offer was so great that all the offered slots were sold out in no time. We are pleased that we were able to inspire the experts to support us in this year's Portfolio Review:
Nadine Steiner (Art Director at Rivers and Wine Studios)
Christiane Ebrecht (Associate Art Director at Ulisses Spiele)
Julia Goerke-Milde (Concept Artist, Illustrator at Rhenus Vina Musica)
Whether you're just getting started with the studio or you're already a little further along, we believe that an unbiased look at your portfolio can't hurt.
Insight into the Education Landscape: At the Indie Game Fest, pupils can find out more about educational institutions and their training and study programs. Lecturers will be on-site to answer visitors' in-depth questions about educational opportunities.
Meetings with Content Creators: By working with LetsPlay4Charity and Gaming Aid we are able to invite content creators and offer them the opportunity to conduct activities with their communities.
Game Art You Can Touch: In collaboration with The Art of Games, we illustrate the process from the idea to the finished game as art on canvases, acrylas and framed art prints to make it "touchable".
Offer for Trade Visitors
Networking Brunch: on the 360° roof terrace, further contacts can be made and the showcase can be planned while enjoying the fantastic view
Business Lounges: scheduled meetings can be held in one of the provided business lounges with enough space for conversation
Game Executives Dinner due to the unique challenges and problems that executives and founders have to face, we offer them the opportunity to exchange and network with each other.
Aftershow Party: We will end the evening together. At the party, indie developers and trade visitors will once again have the opportunity to network in order to reach a collaboration outside of the Indie Game Fest.
Datenschutz / data protection
1. Personenbezogene Daten
Wir nutzen Ihre personenbezogenen Daten, die im Rahmen des Ticketverkaufs erhoben werden, ausschließlich zur Abwicklung des Ticketverkaufs und zur statistischen Auswertung der Besucherzahlen. Bitte beachten Sie auch die Datenschutzerklärung von Eventbrite.
2. Foto- und Videoaufnahmen während der Veranstaltung
Beim Indie Game Fest werden Foto- und Filmaufnahmen gemacht. Jegliche Foto-, Video- und/oder Audioaufnahmen können verwendet werden für: die Präsentation und Bewerbung unserer Leistungen und Veranstaltungen, die Verwendung auf unserer Website, sowie die Veröffentlichung in sozialen Medien.
Sollten Sie nicht fotografiert werden wollen bzw. mit der Veröffentlichung nicht einverstanden sein, sehen Sie bitte von einem Besuch des Events ab. Rechtsgrundlagen der Aufnahmen: Berechtigte Interessen an der Nutzung der Aufnahmen zu den vorgenannten Zwecken gem. Art. 6 Abs. 1 S. 1 lit. f. DSGVO.
Bei Fragen zur Nutzung Ihrer Daten wenden Sie sich bitte schriftlich an: team@indiehub.de
1. personal data
We use your personal data, which is collected in the course of ticket sales, exclusively for the processing of ticket sales and for the statistical evaluation of visitor numbers. Please also refer to the Eventbrite privacy policy.
2. photo and video recordings during the event
Photo and video recordings will be taken at Indie Game Fest. Any photo, video and/or audio recordings may be used for: presenting and promoting our services and events, use on our website, and posting on social media.
If you do not wish to be photographed or do not agree with the publication, please refrain from attending the event. Legal basis of the recordings: Legitimate interests in the use of the recordings for the above-mentioned purposes pursuant to Art. 6 para. 1 p. 1 lit. f. DSGVO.
If you have any questions regarding the use of your data, please contact us by email at team@indiehub.de.