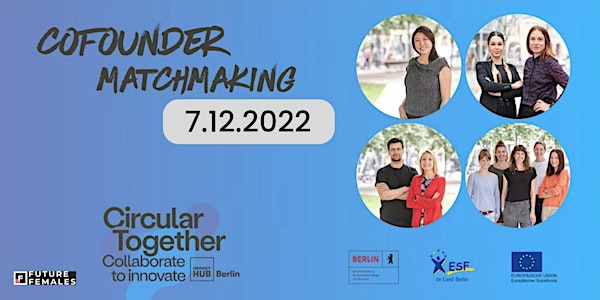 Impact Co-founder Matchmaking
Looking to join an impact-driven startup as a co-founder? Find / offer yourself as a team member and start a venture with purpose.
About this event
Are you driven by an entrepreneurial spirit, have the passion to work in impact driven startups, and are at the right time in your life to join one? To help impact entrepreneurs working on sustainable topics find their perfect match, we're hosting a Co-Founder Matchmaking and Networking Event.
Finding the right team member can make or break your startup. Choosing the right co-founder from scratch, with a specific mindset and skillset, is a mix of networking, robust communication and sometimes, pure luck.
Who is this event for?
1. Entrepreneurs who already have an idea with sustainability at its core
2. Individuals who would like to join an existing startup / project as a co-founder
To get an overview of our participants for a smooth experience, we would like to know whether you are participating with your idea or would like to join an existing team/project. Therefore, please let us know by filling out this form by 10 am on 7th December. 🔥
How do we do it?
This live and interactive online event starts with a brief presentation on the best practices for finding and securing a co-founder, followed by a speed networking session.
An added bonus
In attendance will be at least three existing startups focusing on the circular economy, who have made it into the Circular Together incubator and are looking for cofounders. These high potential, early stage startups can offer their co-founders access to six months hands-on coaching, access to Impact Hub Berlin's coworking space and network of global changemakers, and a monthly stipend of 2,000 EUR per founder (conditions apply).
So join us to meet likeminded and inspired individuals like yourself, explore what's new in the world of the circular economy, and hopefully meet your future team!
IMPORTANT
Please note that there are limited places at the event. If we go over the limit, we do not proceed by a first come, first served principle. Instead, we will use your answers in the checkout form to guide us to create a well balanced event with enough startups and individuals looking to join a team. Do make sure to put your best foot forward!
If for some reason you do not make it into the final group, we will inform you ahead of time and cancel the tickets, and hope to invite you to the next event.
About Impact Hub Berlin
Impact Hub Berlin empowers entrepreneurs and organisations to create innovative solutions for people and the planet. Since 2014, we've worked to connect, enable and inspire our network to scale their ideas for a future that works for all. We coordinate a community of impact-driven members, host a creative space for engaging events, and run a consultancy for business innovation and sustainability.