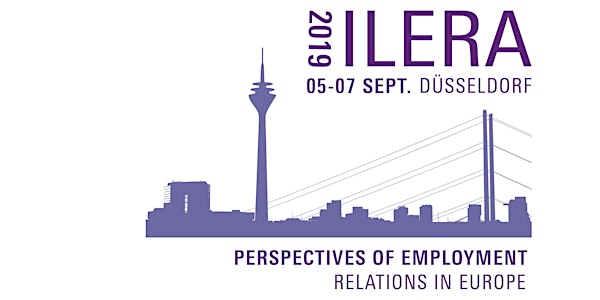 ILERA European Congress: 05-07 Sept. 2019
Location
Heinrich Heine University Düsseldorf
Universitätsstr. 1
40225 Düsseldorf
Germany
Sales Have Ended
Registrations are closed
Thank you for registering for the 12th ILERA European Congress! Please bring your ticket with you in order to reduce check-in time to a minimum. Cancellation policy: In case of cancellation before 30 June 2019, we reimburse 50% of the ticket price, between 1 July and 15 August 2019 we reimburse 30% of the ticket price. After 15 August 2019 it will not be possible to reimburse any ticket. However it is possible to send a replacement. If you're not able to attend the conference and want to send a colleague, please send an email to ilera2019@giraweb.de before 4 September 2019, with the following subject line "Unable to attend, please register replacement" and all the relevant details (name and affiliation of the person who cannot attend and name, e-mail, address and affiliation of the replacement). Check our website at http://www.ilera2019.eu/ for all details about the Congress location and programme. We are looking forward to meeting you in Duesseldorf! The Local Organising Committee
Description
Perspectives of Employment Relations in Europe
The 12th ILERA European Congress comes at a time when changes of institutions, actors and practices of labour relations are widespread. We expect recent current events such as the digitalisation of the economy, intensified conflict on trade, the exit of the United Kingdom from the EU as well as the vastly changing political landscape which comes along with the rise of right-wing populist parties to influence such changes in various ways. For good or bad, industrial relations will not remain the same. The 12th ILERA European Congress focuses on recent developments and discusses the perspectives of employment relations in Europe.

Registration fees:
Early bird ticket (until 12 June 2019) EUR 280

Regular ticket EUR 380

Student/PhD ticket* EUR 150
*Student/PhD fee: In order to purchase a student/PhD ticket you need to send a copy of your student ID to ilera2019@giraweb.de. Afterwards, you will receive a personalized registration code and further instructions for registration.
The fees for participating in the scientific program are tax exempt in accordance with the provisions of the German Value Added Tax Act (§4).
In case of cancellation before 30 June 2019, we reimburse 50 % of the ticket price, between 1 July and 15 August 2019 we reimburse 30 % of the ticket price. After 15 August 2019 it will not be possible to reimburse any ticket. If for any reason you have to cancel your registration, please send an e-mail to ilera2019@giraweb.de.
However, it is possible to send a replacement. If you are not able to attend the conference and want to send a colleague, please send an e-mail to ilera2019@giraweb.de before 4 September 2019 (including name and affiliation of the person who cannot attend and name, e-mail, address and affiliation of the replacement).
Check our website at http://www.ilera2019.eu for all details about the location and programme.