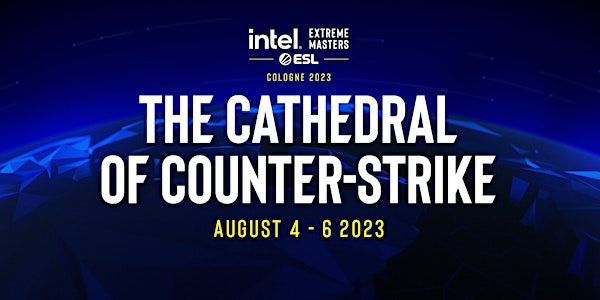 IEM Cologne 2023
The Cathedral of Counter-Strike is once again returning to the LANXESS arena during August 4-6, for one of the most iconic CS:GO events!
Date and time
August 4 · 12pm - August 6 · 11pm CEST
Location
LANXESS arena Willy-Brandt-Platz 3 50679 Köln Germany
About this event
LAST TICKET WAVE AVAILABLE USING THIS LINK:
https://vivenu.com/event/iem-cologne-2023-9tcn5r
Culminating in the heart of Cologne, the Intel Extreme Masters Cologne powered by intel has become a temple for witnessing history. Mark your calendar: August 4-6 2023!
Excellence, precision and countless hours of dedication welcome those worthy to compete within the renowned LANXESS arena. Reverberating in the chests of thousands of fans every year, the Cathedral of Counter-Strike quakes with the greatest, undeniably passionate fans that esports has to offer.
There's a reason Cologne is known as the Cathedral of Counter-Strike. The future of teams are decided in the halls of the Cathedral. We don't know what will happen until you walk into the arena - come find out with us
Visit our official website for more information: https://pro.eslgaming.com/tour/csgo/cologne
Important: You have to be 16+ of age to enter this event.
Estimated opening times, subject to change!
Friday: 12:00
Saturday: 12:00
Sunday: 12:00
What is a Printed Ticket?
Printed Tickets are "real" hard-cover tickets for the most dedicated fans. Shipping is included! For example, a Printed Premium Ticket has the same features as a normal Premium Ticket, but you will receive a printed high-quality fan ticket shipped directly to your doorstep.
Premium Ticket:
Plus Ticket
Weekend Ticket:
Day Ticket:
About the organizer
We are the world's largest and oldest international esports organization. We host esports tournaments all over the globe.