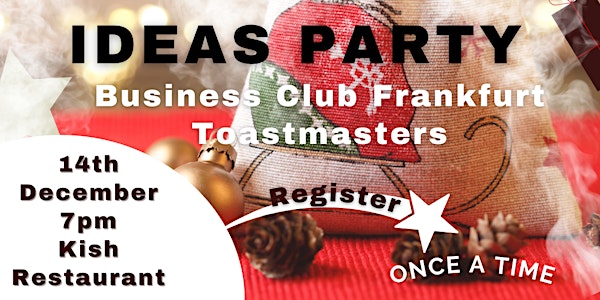 Ideas Party Business Club Frankfurt Toastmasters
SPECIAL: new ideas + good food + fun - GUESTS are WELCOME - only once a time
Zeit und Ort
Veranstaltungsort
Restaurant Kish Leipziger Straße 16A 60487 Frankfurt am Main Germany
Karte und Wegbeschreibung
Zu diesem Event
Fancy our IDEAS PARTY?
The time for gifts is approaching. It's that time of year again, the idea party is spreading across our tables.
Everyone is welcome to join this special event, especially as a guest. The time for inspiration is now. ONLY ONCE A TIME!
Everyone who comes along thinks of an idea.
What?: Ideas Party
When? 14th December 7pm - as long as you want
Where? Kish restaurant Leipziger Str. 16A · Frankfurt am Main
Price? The costs ts for food and drink come out of your pocket (meals are 15-20 euros) https://kish-restaurant.de/menue
What happens?
You come to "Kish restaurant" in Frankfurt, only 300m from the underground station Bockenheimer Warte. In the Kish restaurant, if you don't see us directly, ask for "Ideas Party" and you will be guided to us.
Your idea goes into the bag and you can look forward to a great evening with fantastic ambience and delicious food. Most importantly, the best speakers and idea givers in town are all under one roof. It will also be a fun day!
During the evening, everyone gets to pull an idea out of the bag and pitch a other person's idea in 30 seconds. "EVERYONE CAN - NO ONE HAS TO! The best 3 ideas + pitches of the idea get a gift.
You want to participate?
1) Register in Eventbrite - we have space for 30 people, act fast, think different
2) Take a postcard of your choice and describe a idea, no matter what the topic, in one word to a maximum of 2 sentences. (e.g. for the next gift, to improve the Toastmasters Club in 2023, for a book). Take this postcard to the Ideas Party. Whatever your idea is, bring it out! Innovativion is our foundation.
3) We want to "Wichteln". For this, please bring a gift for about 5 euros. You can't go wrong, buy whatever comes to mind.
4) Enjoy and have fun!
What do we do at Toastmasters?
http://toastmasters-bc-frankfurt.de/
We look forward to listening to you and getting to know you!