Dieses Event ist beendet.

Veranstaltungsort
Online-Event
Rückerstattungsrichtlinie
Soli-Ticket kaufen und REVOLVO am 17.05. 12 - 20 Uhr so oft schauen wie ihr möchtet. Buy a soli ticket and watch the film 12pm and 8pm CEST.
Zu diesem Event
----- english version below -----
Anlässlich des IDAHOBIT 2020 könnt ihr hier ganz exklusiv den Film Revolvo schauen.
Einfach Soli-Ticket kaufen und den Film am 17.05. ab 12 Uhr bis max. 20 Uhr so oft schauen wie ihr möchtet.
Zum Inhalt:
Anette (55) und Carla (70) kennen sich seit Jahren. Ihre rebellische Art und ihr besonderer Humor verbindet die beiden selbstbewussten Frauen. Schon immer sind sie gegen den Strom geschwommen und auch jetzt nachdem Jahre vorbei gezogen sind, stehen sie noch immer für ihre Werte ein. Der aktuelle gesellschahliche Rechtsruck und die Tatsache, dass sie nicht nur mehr als Frauen, sondern nun auch noch aufgrund ihres Alters an den Rand gedrückt werden, lässt die beiden nicht los. Unerschrocken nutzen sie ihre vermeintliche Unsichtbarkeit um das zu tun, was sich viele nicht trauen.
Soli-Ticket:
Mit dem Kauf eines Soli-Tickets unterstützt du die AHA als einen von Berlins ältesten Vereinen der queeren Community.
----- english version -----
During the IDAHOBIT 2020 you can watch the short film Revolvo exclusive here.
Just buy a soli ticket and you can watch the film at IDAHOBIT sunday between 12pm and 8pm CEST as often as you like.
synopsis:
Anette (55) and Carla (70) have known each other for years. Their rebellious nature and their special sense of humour connects the two self-confident women. They have always been swimming against tide and even today they are still committed to their values. In the 1980s they fought loud and visible as radical feminists. Years have passed and since society has only changed in slow motion, Carla and Anette decided to modify their strategies by using their criminal energy with a breeze of fun and rage. Today's shift to the right and that society pushes them to the edge not only as women but also because of their age does not stop them. Undaunted they are using their supposed invisibility to do what many would not dare to do.
Soli ticket:
You are supporting the AHA, one of Berlins oldest queer organizations.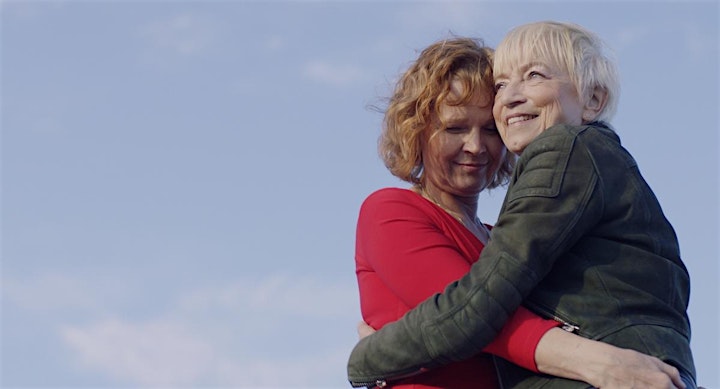 For further financial support we are happy if you donate via PayPal to spenden@aha-berlin.de with subject "donation IDAHOBIT Revolvo".
Für weitere finanzielle Unterstützung freuen wir uns über eure Spende via PayPal an spenden@aha-berlin.de und dem Betreff "Spende IDAHOBIT Revolvo"