About this Event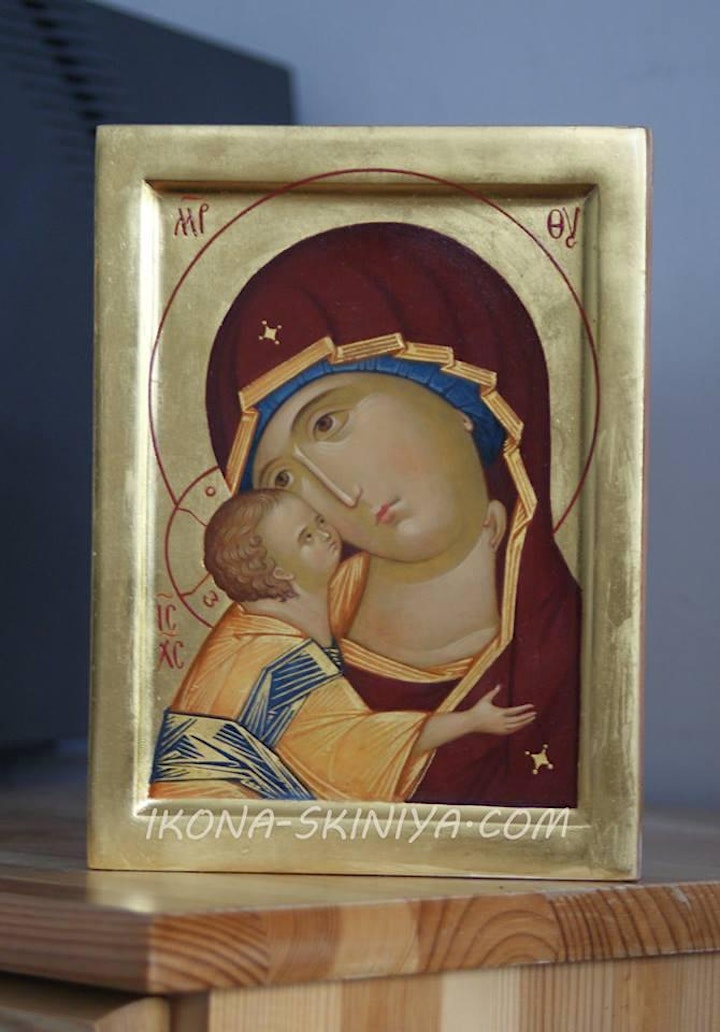 is honoured to announce the international class of the globally acclaimed Belarusian master iconographer, Ekaterina Daineko, from July 6th till July 17th at our centre in the Old city of Bethlehem located on Star Street, a few hundred meters from the Nativity Basilica, during which 8 students maximum can participate for a preferential rate of $400/per student due to the special circumstances and arduous conditions of living of the Palestinian people. On Saturday July 11th and Sunday July 12th, all students will recuperate, pray and/or take pilgrimage at the Christian sites of the Bethlehem and Jerusalem area or entertain themselves together or on their own and we shall organize everything for them if they so wish.
Ekaterina is from Minsk, Belarus, and has worked as an iconographer for 20 years. She taught icon courses in Eastern Europe, England, the United States, Italy, Switzerland, Germany, Scotland, and now for the first time in Bethlehem, Palestine.
The icons of Ekaterina stand out for a wonderfully fluent, dynamic and soft painting style and an exceptionally subtle and transparent use of colour and highlights, which remind one of the masterpieces of the famous medieval Russian icon painter Saint Andrej Rublev.
The PRICE for the 8 days class including all the materials is 450 euro ( 70 euro prepayment you pay here to reserve your seat, as class is limited) You will get a nicly done completed icon plus a lot of information about all the aspects of arts
We warmly invite you to learn the art of icon painting with the highly professional help of Ekaterina Daineko. In a professional atmosphere and under individual supervision, you will be taught to paint an icon of Christ or the Mother of God. During 10 intensive working days. You will also learn to better understand the holy art of icon painting, its language, beauty and meaning. The course will be taught English. To consult her work access her website at:
www.ikona-skiniya.com
And facebook: https://www.facebook.com/daineko.icon/
Here is a message of Ekaterina to all of the potential students who would like to attend this international course:
"My class is totally different from anything you have seen before. Very small group of individual work with 8 students to achieve optimal result. I am a professional artist: I studied at the Academy of fine art of Minsk, Belarus and i hold a Master-degree in history of arts. Thus, we shall cover all aspects of iconography, as anatomy, composition, rules of the use of colors and lights, which are absolutely the same in ICON-painting, but due to the absence of a good foundation, people don't know how to improve their level and they remain at an amateur level. During this course, you will learn a great deal of completely new information and, in the end, you will take back home a beautiful and complete icon of The Theotokos of Christ.
The classes are for all levels, from beginners to professional Iconographers from all over the world. As we take maximum 8 students ,we do individual supervision and can follow every student depends on his skills.
Here under some comments of students who have participated in my course:
Ulrike J. Schatzmann , Austria
Vorletzte Woche durfte ich an einer Meisterklasse in der gastfreundlichen serbisch-orthodoxen Pfarrgemeinde von Vater Miroslav in Zürich teilnehmen. Während 7 Tagen hat Ekaterina die Klasse in einer konzentrierten und trotzdem immer entspannten Atmosphäre in die hohe Kunst eingeführt, wie eine Ikone von Grund auf gebildet wird.Informationen zu Aufbau, Linien, Farbenlehre, fundiertes Hintergrundwissen und immer weiter führende Live-Demos sowie geduldige Anleitung für Verbesserungen haben zu erstaunlichen Ergebnissen geführt. Und das Wunderbarste: sie teilt mit ihren SchülerInnen auch die großen Geheimnisse der Technik der Ikonenmalerei, die eine Ikone erst zu dem machen was sie ist: eine Tür zum Himmel. Das ist nicht selbstverständlich und so bekommen alle durch den Unterricht auch die Möglichkeit Ikonen mit einem neuen Blick zu betrachten.
Hoffentlich auf bald
Ein großes DANKE von Herzen Dir Ekaterina! Du bist begnadete Künstlerin und Lehrerin!!
FEEDBACK from Sister Maria Victoria de Lepanto, Servants of the Lord and the Virgin of Matara. Genova, Italia
We are very grateful to Katerina for all she has done for us. We made contact with her for the first time because we admire the beauty of her work. As we got to know her we found true mastery in her technique, as well as great pedagogy to teach. It is never limited to one copying an image. But she makes her students fully understand the reasons, the logic of the work. And it gives us the elements so that the icon becomes something of its own. To this we can add the fact that she has always been available to us, accommodating to our needs and willing to continue helping even from a distance. The atmosphere that is lived during working days together is of great comfort, confidence and joy. Nothing better to work on the beautiful task of capturing the beauty of God. May God bless you for your great help."
Gloria Squires‎ (USA): «.. It was truly a privilege to be part of the Icon Master Class taught by the Daineko here in Charleston, S. C. I have yet to move beyond three words to describe my experience: Surreal, intense, and holy, holy, holy. It has been not only exposure to excellent iconography training through Ekaterina, but also an immersion into orthodoxy. I hunger for more. Ekaterina is passionate about sharing their art and generous with their one-to-one time with students... »
Yvonne Anne Hajdu-Cronin‎ (USA):
« ...I was very happy with the quality of their instructions. Especially their discussion of beards, hair, and the "grape cluster" model of highlights and shadows/contours. »
Rijo Geevarghese‎ (INDIA): «...I will define this workshop in one line: 'What I learned in 10 days I didn't learn in yearssssssss.' So thankful for these 10 days and infinite knowledge it shared. Continue inspiring others and spread this beautiful tradition