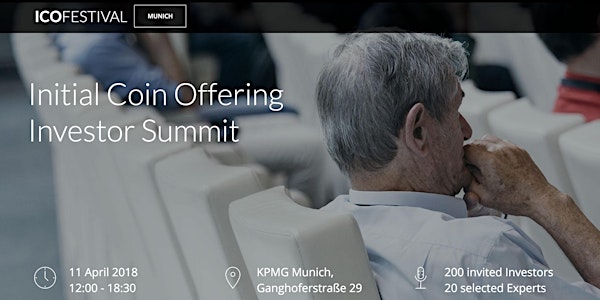 ICO Festival Munich - Investors Summit
When and where
Location
KPMG AG Ganghoferstraße 29 80339 München Germany
Description
Join us and get closer to the real sources who are driving paradigm shifts in alternative financing.
It's increasingly important that entrepreneurs and businesses understand the new landscape created, and the opportunities and changes that flow from, blockchain, ICO and these new decentralizing technologies.

We look forward meeting you at ICO Festival Munich illuminate this complex and highly technical new world.
In the market for cryptocurrencies, Initial Coin Offerings (ICOs) have established a financing model for companies, which has provided hotter talk among investors worldwide in recent months. In an ICO, investors buy blockchain-based tokens from a project or company and speculate that the token will increase in value.
Both the number of available tokens and the number of their shoppers is increasing given the opportunities that this new form of digital finance offers. However, this unprecedented growth has also brought governments and their control agencies to the scene. In this area of tension between euphoria and skepticism, the first ICO festival takes place in Munich on April 11, 2018. The high-caliber conference has set itself the goal of discussing the opportunities and risks with investors, entrepreneurs, politicians and other experts.
Where there is light is also shadow and that's the same with the cryptocurrencies. Of course, there are also risks that need to be aware of. Nevertheless, one should not ignore the opportunities offered and ignore the crypto currencies. With the ICO Festival we want to contribute to this discussion and pool the knowledge, the fears, but also the positive voices of the most well-known experts.
Meet our hand selected experts that will share their knowledge with you.
The initial hype will give way to a more realistic view and many ICOs will realize their use case isn't working and will pivot — many will fail. Interoperability will put pressure on special-purpose tokens and demand opportunities for new challengers with real use cases and better reliability.

It can be assumed that the current hype about Bitcoin, Blockchain, ICO and Co. will calm down a bit in the coming years. The increasingly fragmented market with dozens of cryptocurrencies will consolidate and those tokens with real added value will prevail, while others will disappear.

Further information about the ICO-Festival at www.icofestival.de