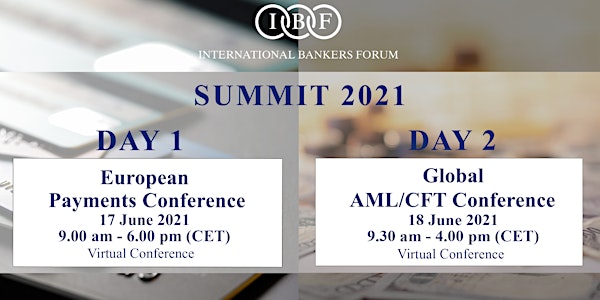 IBF SUMMIT 2021
European Payments Conference and Global AML/CFT Conference
About this event
We are proud to announce the first IBF SUMMIT!
This new top virtual format is designed to combine year by year premier topics on banking, finance, investments, political matters and the markets. The 2021 focus centers on European Payments and AML/CFT. Please consider virtual conferences on 17 and 18 June 2021 in your calendars. Registration for both conferences will be available soon.
Looking ahead, we will continue the IBF SUMMIT also next year, and thereafter. Please save the conference dates on 2 and 3 June 2022 .
We look forward to share state-of-the-art knowledge on the forthcoming IBF SUMMITS.
Information and Program
European Payments Conference, 17 June 2021, 9.00 am – 6.00 pm (CET): please click here
Gobal AML/CFT Conference, 18 June 2021, 9.30 am – 4.00 pm (CET): please click here