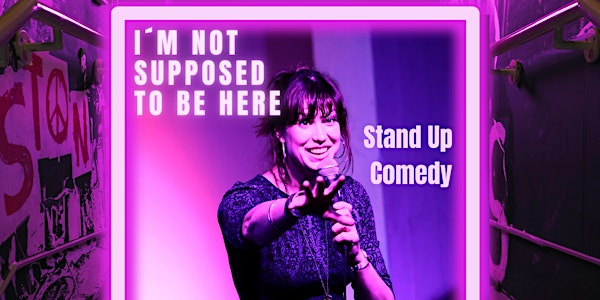 I´m Not Supposed to Be Here
Stand Up Comedy: I´m Not Supposed to Be Here
When and where
Location
Z-Bar Bergstraße 2 10115 Berlin Germany
About this event
Stand Up Comedy: I´m Not Supposed to Be Here with Tera!
Boom Chicago Comedy Festival (2022) performer Tera Kilbride confronts her past, present, and future troubles in this work-in-progress comedy special.
She tackles sex and dating, mental health, childhood, relationships and adjusting to life as a foreigner. If life is hard — why not share it + laugh about it? Tera performs all over Europe. Rare opportunity to see her longer set!!
Doors at 20:00 (8pm). Show starts promptly at 20:30 (8:30pm). Please claim your reservation by 8:15.
Location: Z Bar, Berlin, Mitte
Bar is available for drinks before the show! Stop by early with friends and make an evening out of it!
BONUS! Also Featuring: The fantastic -- Lui Beca + Maya Upchurch!
TERA COMEDY Tera's an international stand up comedian, host and producer , originally from the United States, living in Berlin. She's performed stand up in 8 countries. Her content tackles mental health, sex and dating, dark humor, and being an expat in Europe. Tera´s known for her energetic delivery, her bold content and fearlessly engaging with her audience. In addition to her jokes, Tera hosts several of her own shows per month, and is high in demand as a guest host for other people. Tera is known for seamlessly sprinkling in crowd work. "You are so direct, I love it!" "The way you come up with responses on the spot is just incredible; you have to be so quick!" "I´ve never seen an audience this hot, wow" - Comedian
Credits include The Hamburg International Comedy Festival; hosting for the Berlin New Standup Awards, and Berlin Mental Health Festival at Cosmic Comedy; and Boom Chicago! Comedy Festival 2022. She hosts Dude, Where´s My Visa?; GLOW; and Laugh Trap Comedy nights.
Tera Comedy on IG, FB, EventBrite, MeetUp
Dog Illustration: Saven Chadha