Dieses Event ist beendet.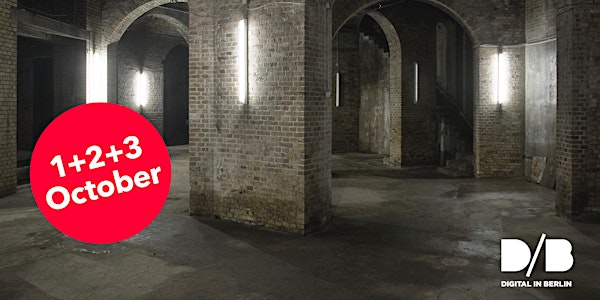 Hydroacoustics | Sunday, 03.10.2021
Hydroacoustics — Festival for scientific and artistic exploration of the subject of reverb, in Berlin's unique water reservoirs.
Datum und Uhrzeit
So., 3. Okt. 2021 14:00 - 18:00 CEST
Veranstaltungsort
Großer Wasserspeicher Belforter Straße 10405 Berlin Germany
Zu diesem Event
This Sunday, 03.10.2021 from 14-18:00 CET the reservoirs will open for free to visitors as walk-in installations. Everyone, including families with children, will then have the opportunity to explore these unique spaces and experience all four compositions.
The 150-year-old underground water reservoirs in Berlin Prenzlauer Berg are a unique industrial landmark in Europe. The larger reservoir features five concentric circles around a tower. The reverberation time in the outer ring of the water reservoir is up to 18 seconds, shortening towards the inner rings. The smaller reservoir, with its column and vault structure reminiscent of a crypt, has relatively even reverberation times of 4 to 6 seconds.
Hydroacoustics will be one of the first festivals to deal scientifically and artistically with the subject of reverb. For the festival in October we have commissioned four composers to work with the unique acoustic conditions to develop site-specific compositions. The pieces will be premiered and recorded live.
We have invited German composer Sven Helbig, British born, Berlin-based cellist Lucy Railton, Lebanese-born musician, DJ and curator Rabih Beaini and Swedish-Polish composer, sound artist Marta Forsberg.
→ Sven Helbig is a composer for choir, orchestra and chamber music. He combines classical composition techniques, with a deep knowledge of electronic sound synthesis and his skills on various musical instruments. He is a long time collaborator of Rammstein and british Pop icons Pet Shop Boys. Sven hosts his weekly radio show 'Schöne Töne' on Berlin's radioeins, celebrating music history and contemporary artists.
→ Emerging from a long-term engagement with contemporary music the British, Berlin-based musician Lucy Railton is active as both a performer in new music and improvisation, and writes her own music for cello, electronics and field recordings, releasing solo records on the labels Editions Mego/GRM and Modern Love, and in collaboration with Peter Zinovieff on PAN.
→ Rabih Beaini is a Lebanese-born musician, DJ and curator. He started Doing in Lebanon in the 1990s and went on to start Morphine Records in Italy in the 2000. Beaini will engage in a site specific installation-performance at the Wassespeicher. By expanding the Kabel instrument concept, Beaini wants to multiply the signal and vibration of the cables with a self-built magnetic field based system he will be developing in Loco. Rabih comes from an electronic music background, but has expanded it into electro-acoustic, experimentation, and formed a unique performative practice.
→ Marta Forsberg is a Swedish-Polish composer, sound artist and musician working in the field of installation art and electronic music. She studied studied Electroacoustic composition at the Royal College of Music and has released albums on Havtorn Records and Holy Geometry.
DE/ Hydroacoustics ist ein Projekt von Digital in Berlin. Kuratiert von Michael Rosen und gefördert vom Musikfonds e. V. mit Projektmitteln der Beauftragten der Bundesregierung für Kultur und Medien im Rahmen des Sonderprogramms Neustart Kultur.
Über den Veranstalter
Digital in Berlin is a curated platform for cultured music between avant-garde, pop culture and interdisciplinary arts. For 13 years and with more than 5000 announcements, we have been Berlin's musical archive, reflecting the diversity of the scene. Digital in Berlin supports, advises and develops collaborative cultural offerings, creates visibility for sectoral and cross-sectoral events and helps to make better economic use of cultural and artistic potential. As a media partner, we support selected concerts and festivals.
Since 2010 we programming concerts in many places in Berlin, since 2015 mainly under the name Kiezsalon. The Kiezsalon has offered a forum for innovative musical activity beyond genre boundaries. As an interface between avant-garde, advanced pop music and interdisciplinary art, the series presents compact shows of 30 minutes by artists of diverse genres, origin and status. Following six exciting years, the Kiezsalon has established itself as one of the most popular and successful series in Berlin, so far hosting more than 190 acts from 41 countries.