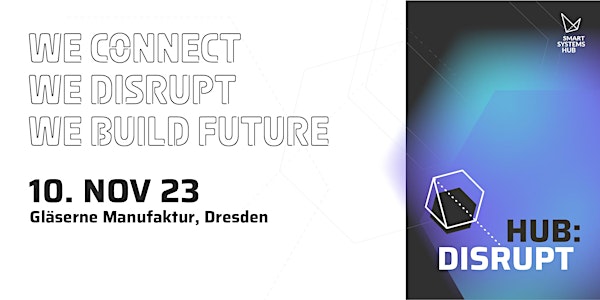 hub:disrupt 2023
hub:disrupt is an event for visionaries & innovators. We want to shape the future and create a space for ideas and new perspectives in IoT.
Von Smart Systems Hub GmbH
Datum und Uhrzeit
Fr., 10. Nov. 2023 09:00 - 21:00 CET
Veranstaltungsort
Gläserne Manufaktur | Home of ID. | Erlebnisfertigung Lennéstraße 1 01069 Dresden Germany
Rückerstattungsrichtlinie
Rückerstattungen bis zu 30 Tage vor dem Event
Zu diesem Event
12 Stunden

Mobile E-Tickets
We connect × We disrupt × We build future
The future is automated – With our hub:disrupt we will explore industry 4.0 and all there is to it. Smart systems will shape the future of manufacturing. With our international partner network of over 600 organizations, we will delve into the most defining technologies for Industrial IoT such as robotics, artificial intelligence, cloud, and many more. We will explore their potential for various fields like semiconductor, manufacturing, smart infrastructure, mobility and more, to share learnings across different industries.
With our hub:disrupt we create a space for ideas, offer insights and new perspectives. We bring together experts, decision-makers, and innovators, to dive into the latest trends of digitalization and automation. Beyond the familiar format of high-level keynotes, panels, and pitches we will establish an interactive setting. With a multitude of workshops, tech demonstrations, and much more we shape the perfect space to present, share and develop new ideas. Innovation isn't a one-way street. We build future – together with you!
We believe the way we work together is equally important as the technology itself. We want to show what is possible when we work together – when differences become an opportunity rather than an obstacle. We will share experiences of co-innovation projects, offer insights into design thinking processes, and show that the whole can be greater than the sum of its parts.
We enable you!
Whether you are already implementing IIoT solutions or are just about to start employing them, whether you are an engineer or a marketer, a CEO or head of a production line – on the hub:disrupt you will find valuable insights.
Our goal is to provide an overarching understanding of problems and solutions in the field of Industrial IoT. With tailor-made offers for the needs of everyone involved, we want to enable people and companies alike, to successfully tackle the challenges they face.
More info 👉 hubdisrupt.de
Über den Veranstalter
Als Teil einer deutschlandweiten Exzellenzinitiative (Digital Hub Initiative) des Bundesministeriums für Wirtschaft und Klimaschutz (BMWK) vernetzt der Smart Systems Hub hochinnovative Technologien im Bereich Internet der Dinge (IoT) mit Anwendern aus Mittelstand, Industrie und Wissenschaft.  
 450 Partner im Netzwerk – darunter Schlüsselpartner wie Infineon, SAP, T-Systems und Globalfoundries – und über 20 Jahre IoT-Praxis durch das im Netzwerk gebündelte Wissen, machen ihn zu Europas größtem One-Stop-Shop im Bereich IoT. 
Im Fokus der Hub-Aktivitäten steht die konkrete Anwendung von IoT-Lösungen sowie die Entwicklung von IoT-basierten Geschäftsmodellen. Die Methodik der mittlerweile 15 erfolgreichen IoT- und Co-Innovationsformate basiert auf [Frei]Räumen – im physischen und im übertragenen Sinne. Hier vernetzt der Hub relevante Partner, um – ausgehend von den Bedürfnissen der Anwender und mit dem Fokus auf einem beschleunigten Go-to-Market – digitale Lösungen und Geschäftsmodelle zu entwickeln.