HR als innovativer Game-Changer: Treiber statt Getriebener
About this event
"[Transformation is a process] - It must be learned; it must be led."
- W. Edwards Deming
Ob agiles Arbeiten oder kollaborative Technologien: die digitale Transformation stellt viele Unternehmen vor neue Herausforderungen und die Notwendigkeit einer agilen und proaktiven Ausrichtung ist allgegenwärtig.
Doch vielfältiger Handlungsspielraum muss erlernt und erlerbt werden - so bedarf der Umgang mit Informationen, Kompetenzen und administrativen Prozessen einem wandelnden und innovativen Mindset.
Dabei fungieren die HR und Organisationsentwicklung schon längst als Vordenker und Treiber von Trends - denn wer sein Unternehmen transformieren möchte, darf eines nicht vergessen: seine Mitarbeiter*innen.
Dass Transformation von Menschen lebt, werden wir im exklusiven Kick-off unseres neuen Eventformates fokussieren. Neben einem exklusiven Praxiseinblick durch Stefan Mrozek (Founder & Managing Partner, mindsandmaker), bieten uns unsere Speaker*innen im Expertenaustausch, spannende Insights in drei Kernbereichen erfolgreicher Transformation:
Strategie - Jörg Rosenberger (Gründer & Geschäftsführer, Reden ist silber) und Ricarda Fleer (Chief Financial Officer bei Denios)
People & Culture - Laura Weil (Digital Project Lead, Körber Digital & Gründerin, Monday Morning Growth)
Organisation - Ramona Werner (Leitung Personal, Diamant Software) & Sven Heising (People Manager, Diamant Software)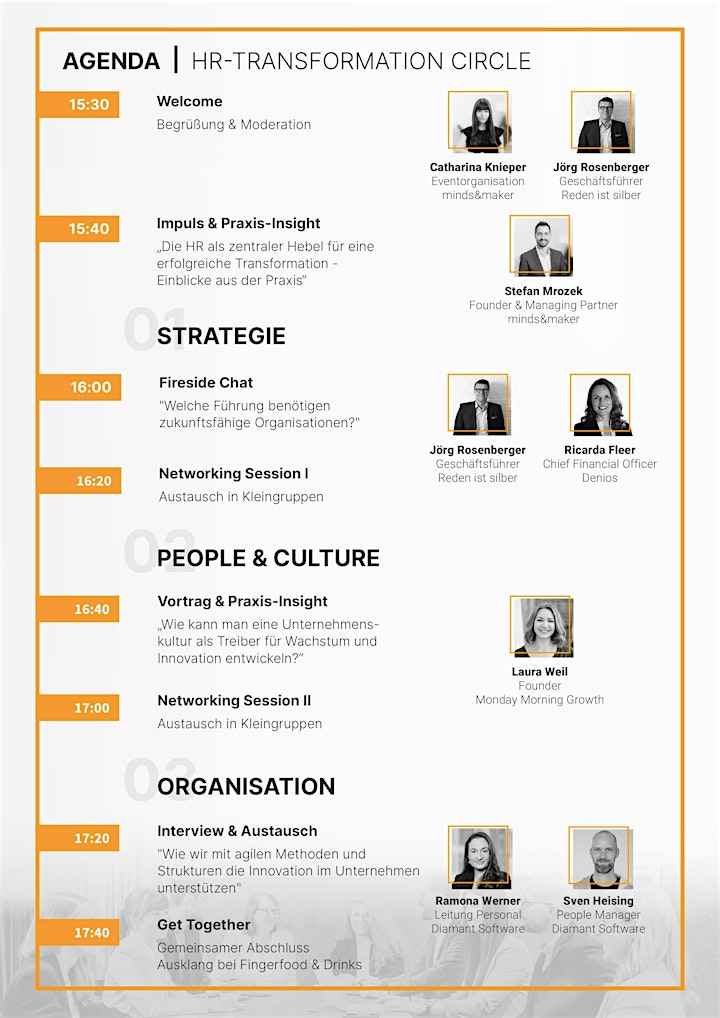 Werden Sie Teil unseres Netzwerkes und erleben Sie unser Event als Ihren persönlichen Safe Space für einzigartigen Erfahrungsaustausch, spannenden Wissenstransfer & exklusives Networking.
Die Veranstaltung richtet sich ausschließlich an führende Personalverantwortliche, Verantwortliche in der Organisationsentwicklung sowie Geschäftsführer*innen. Sollten Sie in Ihrem Netzwerk oder Ihrem Unternehmen jemanden kennen, den Sie gerne zum HR-Transformation Circle mitbringen möchten, kontaktieren Sie uns gerne direkt unter c.knieper@mindsandmaker.de.
Wir freuen uns auf Sie!
Catharina Knieper, Stefan Mrozek & Jörg Rosenberger