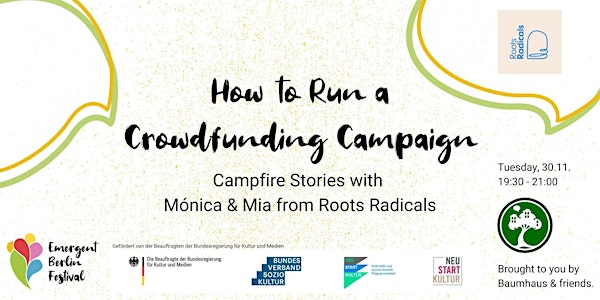 How to Run a Crowdfunding Campaign | Campfire Stories with Roots Radicals
In this Campfire Story, you will meet Monica and Mia from Roots Radicals and learn about the story of their ongoing crowdfunding campaign.
About this event
Starting with their circular cooking concept and mission, Monica and Mia will then steer the conversation towards why Roots decided to crowdfund and what the process of ideating and implementing the campaign looks like. They will point out the dos and don'ts as well as highs and lows, leaving you with a deep understanding of how to kickstart a crowdfunding campaign.
The session will have an open format — a conversation between all participants with the intention of providing a space for exchange amongst local changemakers and Q&A on how to best run a crowdfunding campaign. The first and most important thing for a successful campaign is the crowd!
#TakePart and support their campaign — you can choose a meaningful Christmas gift from their carefully developed rewards and support them on their mission to end food waste, taking part in a circular food system.
Support the campaign here: www.startnext.com/en/rootsradicals
About Mia & Monica from Roots Radicals
Mónica was born in Lima, Perú in1982. She is a Chef, Scientist and Artist. After receiving honors as a Ph.D. in molecular biology and biochemistry, Mónica pursued a Master's degree at the Basque Culinary Center. She approaches the development of her own singular cuisine through science, and is always inspired by seasonal, organic and vegetarian produce. Currently based in Berlin, she is an advocate of the circular economy and food waste prevention through ancestral and hand-crafted preservation techniques.
Mia is a food grower, activist and project manager transforming the linear food sector into a circular economic system. Following her Bachelor thesis on labour organisation at an organic community farm, she developed her passion for sustainable food systems and projects that drive change. To date Mia has contributed to reducing food waste in all places of her work, namely through her experience in operations, partnership management, quality assurance, food safety, zero-waste event design and communications.
Emergent Berlin 2021 - An event series by and for local projects.
Every Tuesday night in the second half of 2021, this year's EMB provides a platform for people and places to reconnect, reflect on and share our collective and individual experiences and strategies.
Theme 2021: "Rising to meet the crises." As we gradually emerge from the pandemic in Berlin, the climate catastrophe is knocking at our doorstep. We need to act with a sense of urgency. We invite fellow social-ecological projects and people who want to take action to reconnect, reflect on and share our collective and individual experiences and strategies. Where are we at? What can we learn from the pandemic? How can we step up to the evermore urgent climate and sustainability crises now?
Each month, we shift our focus on another aspect of taking action for transformation: personal, ecological, aesthetic, cultural, economic and social.
Month #1 July: Local Projects & Personal Sustainability
Month #2 August: Local Projects & Ecological Sustainability
Month #3 September: Local Projects & Aesthetic Sustainability
Month #4 October: Local Projects & Cultural Sustainability
Month #5 November: Local Projects & Economic Sustainability
Month #6 December: Local Projects & Social Sustainability
As always, Emergent Berlin Festival is brought to you by Baumhaus & friends. If you have trouble finding us, call Karen: 0176-7856-6593
Website: www.emergentberlin2021.de
IG: @baumhausberlin