Understand the core principles of building future scenarios in an agile way - join our session about the "1-hour Scenario Canvas".
About this event
How to learn from the future? An introduction to the "1-hour Scenario Canvas"
Methods like future foresight or speculative design have regained a lot of attention in recent years as they promise to future-prove your strategy, spark new ideas and give you new perspectives. Yet for a lot of people, it remains unclear what this means in practice. How do you think about the future in a systematic way? How do you build scenarios tailored to your organizational questions? And how do you do this fast?
About the "1-hour Scenario Canvas" session
In this session, we want to introduce you to the "1-hour Scenario Canvas" – a tool to quickly understand the core principles of agile scenario building. It allows you to combine relevant trends, uncertainties and proxies into scenarios and can serve as a starting point for developing future-proof strategies or pioneering ideas. You will have the opportunity to try it out yourself: within a small team you will work with the canvas on a digital whiteboard (Miro) and discuss how to use it in an organizational context.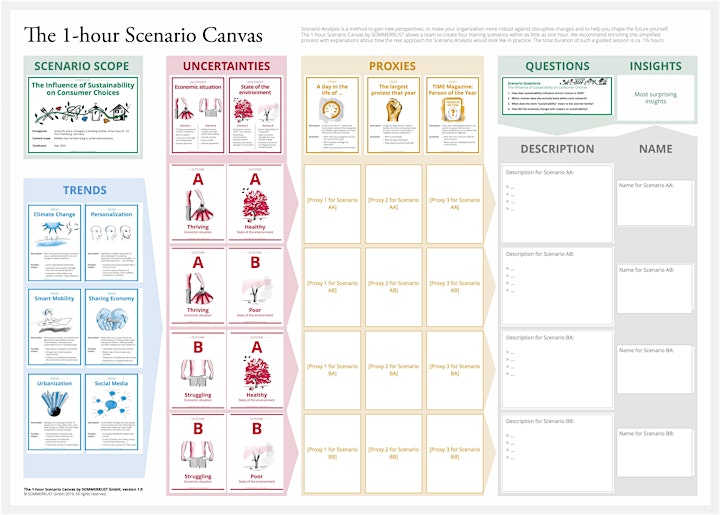 Practicalities
The session will take place via Zoom on Friday, February 04, 2022, from 04:00-06:00pm CET. Furthermore, we will be using Miro, a browser-based whiteboard for digital collaboration. Don't worry if you haven't used it before – it is very intuitive to use, and we will give you a short introduction during the session. There's no need to install anything in advance.
Who might this be interesting for?
We believe strategic future thinking is relevant for everyone. That said, especially people who must deal with lots of uncertainties in their job may profit from this session. This could be managers, business developers, innovators, strategists, or consultants. No previous experiences with scenario methods are required.
Who we are
Nina Kremser and Eva Markutzik – we are both part of SOMMERRUST, an innovation consultancy that helps companies innovate and create new business models. Moreover, we show them how to improve their innovative capacity in a systematic way. You can learn more about us here: https://sommerrust.com/en/
Don't have time, but still interested?
Feel free to contact us if you are interested in the topic and potential follow-up dates for an introduction to the "1-hour Scenario Canvas": info@sommerrust.com