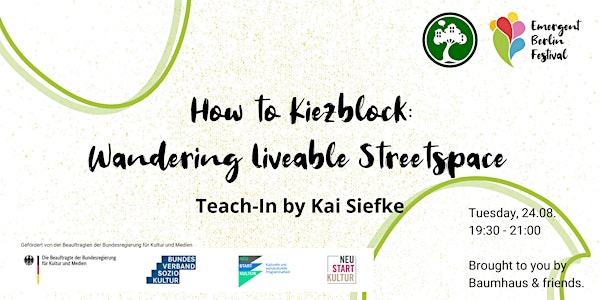 How to Kiezblock: Wandering Liveable Streetspace | Emergent Berlin Festival
How can we take action to transform our streets? Learn about Wandering Liveable Streetspace & Kiezblock ,a campaign by Changing Cities
When and where
Location
Panke Culture Gerichtstraße 23 #Hof V 13347 Berlin Germany
About this event
About this Talk
How can we take action to transform our streets?
Learn about #Kiezblocks and Wandering Liveable Streetspace (WLS), two hand-in-hand campaigns supported by Changing Cities e.V.
With #Kiezblocks, Changing Cities is introducing a concept to Berlin which has been quite successful in other European Cites like London, Barcelona or Gent before. The idea is as simple as compelling: ban the through-traffic from residential neighourhoods and thus make your quarter more attractive for cyclists and pedestrians - with less space for cars and more space for people.
Jakob Schwarz, #Kiezblock Agent for the district of Mitte will explain how #Kiezblocks work exactly and what you need to do in order to get one for yourself.
While there are already over 50 local #Kiezblock-initiatives in Berlin, the project WLS is still in its early stages. WLS-Co-Initiator Kai Siefke explains how it all started:
In August 2020, Katja Pfeiffer and Kai Siefke began to further develop an idea, which first came to them in 2008 and goes hand in hand with the concept of #Kiezblocks: the Wandering Livable Streetspace. The basic idea is to remove parked cars in a street for a period of four weeks or longer and convert the street into a space for people to meet. In doing so, we step away from always thinking of street space in the dimensions of a car. We then re-envision the street into a space that takes on a new life of its own; a space that people can design to match the needs of their everyday life.
Afterwards, the neighbourhood can decide whether they want to keep it as a permanent solution or revert it back into a regular street. After the four week period is up, we would then move on to the next street to give as many people as possible the opportunity to experience it. This would also allow us to understand what works in a certain space and what doesn't before undertaking any permanent reconstruction.
At the moment, we are trying to get funding for a pilot module. A motion with a similar proposal has already been submitted to Pankow's district council . However, nothing will be decided before the elections in September.
Learn more about the projects:
https://changing-cities.org/berliner-initiativen/
About Kai Siefke
Kai Siefke studied biology and economics and worked in international sales for the last 15 years. He is currently in the process of becoming a primary school teacher.
About Jakob Schwarz
Jakob is a volunteer at Changing-Citites.org, responsible for coordinating and supporting the Kiezblock initiatives all around the district of Mitte.
Emergent Berlin 2021 - An event series by and for local projects.
Every Tuesday night in the second half of 2021, this year's EMB provides a platform for people and places to reconnect, reflect on and share our collective and individual experiences and strategies.
Theme 2021: "Rising to meet the crises." As we gradually emerge from the pandemic in Berlin, the climate catastrophe is knocking at our doorstep. We need to act with a sense of urgency. We invite fellow social-ecological projects and people who want to take action to reconnect, reflect on and share our collective and individual experiences and strategies. Where are we at? What can we learn from the pandemic? How can we step up to the evermore urgent climate and sustainability crises now?
Each month, we shift our focus on another aspect of taking action for transformation: personal, ecological, aesthetic, cultural, economic and social.
Month #1 July: Local Projects & Personal Sustainability
Month #2 August: Local Projects & Ecological Sustainability
Month #3 September: Local Projects & Aesthetic Sustainability
Month #4 October: Local Projects & Cultural Sustainability
Month #5 November: Local Projects & Economic Sustainability
Month #6 December: Local Projects & Social Sustainability
As always, Emergent Berlin Festival is brought to you by Baumhaus & friends. If you have trouble finding us, call Karen: 0176-7856-6593
Website: www.emergentberlin2021.de
IG: @baumhausberlin