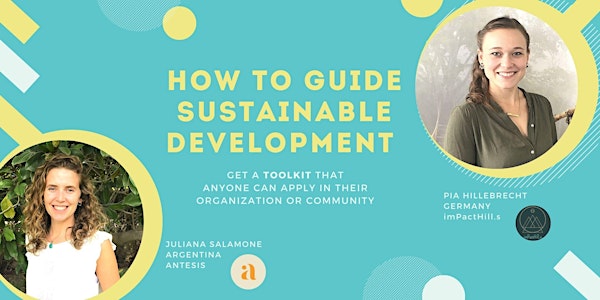 How to guide Sustainable Development
A toolkit to empower and equip passionate individuals to move their organizations and communities towards Sustainability.
By Antesis & imPactHill.s
Date and time
Tuesday, February 23, 2021 · 10 - 11:30am PST
Refund Policy
Contact the organizer to request a refund.
About this event
In this webinar, we will be presenting a proved and tested concept for Sustainability Management. It was developed by The Natural Step (a Swedish group of Sustainability scientists and practitioners), it is peer-reviewed worldwide and has already been implemented by companies like IKEA and Interface.
Its effectivenes lies in its simplicity. It is a very lean method that literally anyone can use in an organization or community (of any size) to either start being sustainable or to transform into a sustainability-driven organization or step their sustainable ambitions up strategically.
What you will get by joining this webinar:
a 4-step methodology for applying Sustainability to any organization, no matter which stage they are at in their Sustainability Journey
an 8-step concept to evaluate quick and easy where your organization's strengths and weaknesses lie in terms of sustainability practices
several templates and material that you can use straight away with your team
Who is this event for?
If you are a sustainability practitioner who wants to exchange ideas and get to know different perspectives and approaches and explore new avenues to sharpen your CSR actions and/or sustainability strategy.
If you are leading an organisation and want to apply strategic methods to grow a sustainable business or wonder how to move your current business towards Sustainability.
If you are a passionate individual and wish to acquire solid tools and methods that you can apply easily to make a difference in your place of work or community.
Or...If you are just locked-in at home and wondering how you can skill yourself to contribute to a sustainable development of the world.
If any of this is you...then join this workshop to learn about Sustainability in a non-judgemental atmosphere and clarify any doubts you hold and contribute to meaningful conversations.
About the organizers
Juliana Salamone is a Consultant in Business Strategy for Sustainability, with focus on leadership and personal development. She is the founder of Antesis, a consultancy agency based in Argentina. Check out her company and work: Antesis.
Pia Hillebrecht is a Consultant, Coach and Facilitator for Strategic Development in Germany. You can check her work and references on her website: impacthills.com.
Together, they are currently building up a Community for Open Sustainability which fosters co-creation and accessibility for sustainable practices at its core.