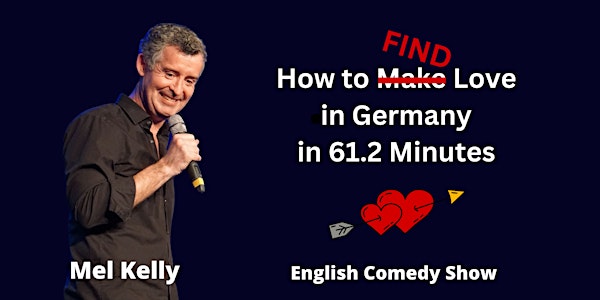 How to Find Love in Germany in 61.2 Minutes
This English Comedy Show will show you how to find love in Germany. In just 61.2 minutes!
Zeit und Ort
Veranstaltungsort
Shamrock Pub Trautenwolfstraße 6 80802 München Germany
Karte und Wegbeschreibung
Rückerstattungsrichtlinie
Kontaktieren Sie den Veranstalter, um eine Rückerstattung anzufordern.
Zu diesem Event
This English Comedy Show will show you how to find love in Germany. In just one hour!Or, more precisely, tell you how one Irishman blundered his way through the dating scene in Germany and somehow love found him.
Learn the top tips for overcoming dating disasters in the land of BMWs, Beethoven and beer. And indeed, Mel will reveal some less well-known darker German dating secrets too!
Mel Kelly came from Ireland to Munich in 2003. In just over 10 years, he found love in Germany. Mel will show you how to do the same in a mere 61.2 minutes🙂
About Mel Kelly
Mel Kelly moved from Ireland to Munich to work as an IT consultant in 2003 and discovered his passion for comedy in the hotbed of international comedy, Germany! He is the founder of three comedy clubs in Munich, a best-selling author and an award-winning speaker.
After the success of his first solo show, "How to Become German in 61.2 Minutes", Mel is back to entertain you with this brand new show.
Come along, be entertained and have a laugh.
Find out how to become find love in Germany in the shortest and funniest way possible.
Note:- The tickets are scanned contactless at the entrance.- The tickets can be printed out or scanned directly from your phone.- If you want to sit together with several people, please order the tickets together so we can organize you as a group.
Additional Info– Free Seating – come early to get the best seats– This show is not suitable for children under 16 years old.– Not wheelchair accessible