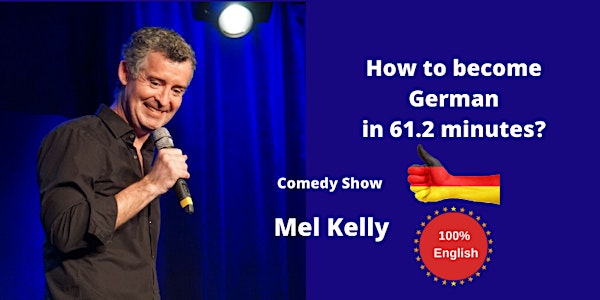 How to become German in 61.2 minutes? -
This English comedy show will show you how to act like a real German. In just one hour!
Datum und Uhrzeit
Sa., 17. Juni 2023 18:00 - 19:00 CEST
Veranstaltungsort
Shamrock Pub Trautenwolfstraße 6 80802 München Germany
Rückerstattungsrichtlinie
Kontaktieren Sie den Veranstalter, um eine Rückerstattung anzufordern.
Zu diesem Event
Mel Kelly will show you how Germans go about their daily lives – at work, on the train and at doctor's visits.
The Germans are famous for their sausage, their beer and their cars. National stereotypes also include punctuality, (too much) honesty and much more. These will all be covered, and indeed, some less well-known (darker) German secrets will be revealed, too!
Mel Kelly came from Ireland to Munich in 2003. In just over 15 years, he became a full German citizen. Mel will show you how to do the same in a mere 60 minutes.
About Mel Kelly
Mel Kelly moved from Ireland to Munich to work as an IT consultant in 2003 and discovered his passion for comedy in the hotbed of international comedy, Germany!
He is the founder of three comedy clubs in Munich, a best-selling author and an award-winning speaker.
Come along, be entertained and have a laugh. Find out how to become German in the shortest, and funniest, way possible.
Note:
The tickets are scanned contactlessly at the entrance.
The tickets can be printed out or scanned directly from your phone.
If you want to sit together with several people, please order the tickets together so that we can organize you as a group.
Über den Veranstalter
The Comedy Club Munich presents mixed stand-up comedy shows in English and German.
Every 10 minutes there is another comedian on stage.
The Stand-up Comedy-Show is 50% in English and 50% in German.
Each show is unique and brings a lot of fun.
The latest show "How to become German in 61.2 minutes?" is a solo show with Mel Kelly.
This is an English Comedy-Show.
Do you need to become a better public speaker?
Mel Kelly offers public speaking training for companies in the Munich area. Please contact: www.melkelly.de
If you are interested in comedy for your company events, please contact us!