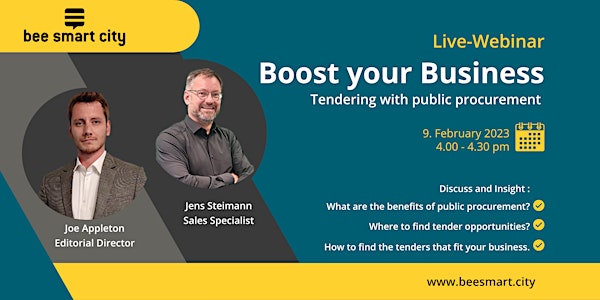 How Tendering with public procurement can boost your Business
What are the benefits of public procurement? Where to find tender opportunities? How to find the tenders that fit your business?
Date and time
Thursday, February 9 · 7 - 7:45am PST
About this event
Find your business opportunities for greater success. Join us if you:
Are a company or organization which offers solutions and services in the smart city sector
Want to improve your market share
Are searching for ways to enter new markets?
The Webinar will start on Thursday , 9. February 2023, at 4pm (CET, Berlin time).
Duration: planned for 30 minutes, depends on the questions.
This webinar is the right choice for your business. We show you how public tendering works and how you can supercharge your business with finding the right tenders that fit your needs.
We will explain how to find and successfully win lucrative tenders.
What you will learn in this webinar:
What are the benefits of public procurement?
How do I find tender opportunities?
How our platform finds the tenders that fit your products.
+ 5 success factors in the tender process.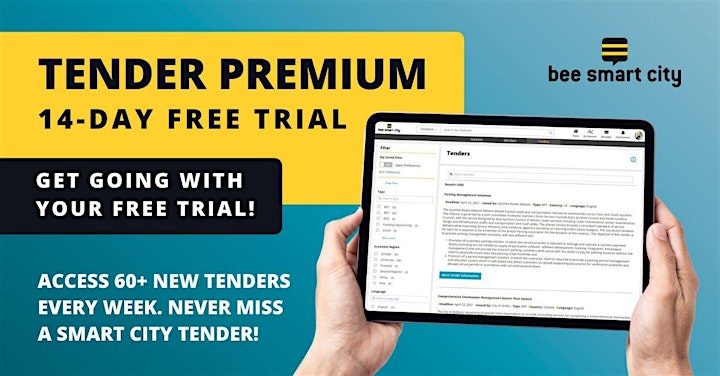 While this webinar is aimed at giving you an introduction into public procurement and how to find the right tenders that fits your business. We will show you how easy you can find public tenders. However, we offer every webinar participant a free trial of our Tender Premium service and an exclusive discount for a later regular subscription.
Each week we curate up to 60 new smart city tenders and make them available for our premium customers. Thanks to our comprehensive search & filter options and special alert notifications, you can learn why our customers prefer our service.
What about the costs?
This webinar is a free online introduction for all solution providers in the smart city sector. Participate online for free, using your preferred device (laptop, smartphone or tablet). All you need is a good internet connection and the participation link.
For more information about our Premium Tender services you also invited to check out our Webpage.
Speaker:
Jens Steimann, Head of Digital Sales - bee smart city GmbH
Joe Appleton, Editorial Director - bee smart city GmbH
Language: English
About the organizer
Who we are:
bee smart city is the leading global smart city network and community with more than 14.000+members from 170 countries, featuring 760+ smart city solutions implemented in over 1,000 cities and communities across the globe.

Our Mission:
bee smart city empowers smart sustainable cities by facilitating the global exchange of best practice solutions and lessons learned
Our Products & Services:
With our products & services we help cities and communities to accelerate their development into smarter and more sustainable places for all stakeholders. Stay informed about smart city strategy insights and lessons learned via our smart city knowledge center. Access proven solutions and connect with other cities, companies and experts via our global solution network and community. Make use of our expertise in smart city strategy development and project implementation through our advisory services and manage the transformation process digitally with the smart city toolbox as a powerful SaaS software suite that is tailored to your needs.
Events:
Find all smart city related Events on our Eventlisting page.
Webinars:
We want to show you the benefits from our Products and Services, so we do Webinars for companies or organizations which offers solutions and services in the smart city/smart region sector. If you want to improve your market shares, or you are searching for new oppportunities to enter new markets, we will show you how.
Join all of our webinars for free.
If you like to find out more about us, please send us a message.