Sales Have Ended
Ticket sales have ended
Thank you for booking. We are happy to welcome you in Marburg on September 23th, 2018
Sales Have Ended
Ticket sales have ended
Thank you for booking. We are happy to welcome you in Marburg on September 23th, 2018
Description
How microorganisms view their world
23. - 25.September 2018, Marburg, Germany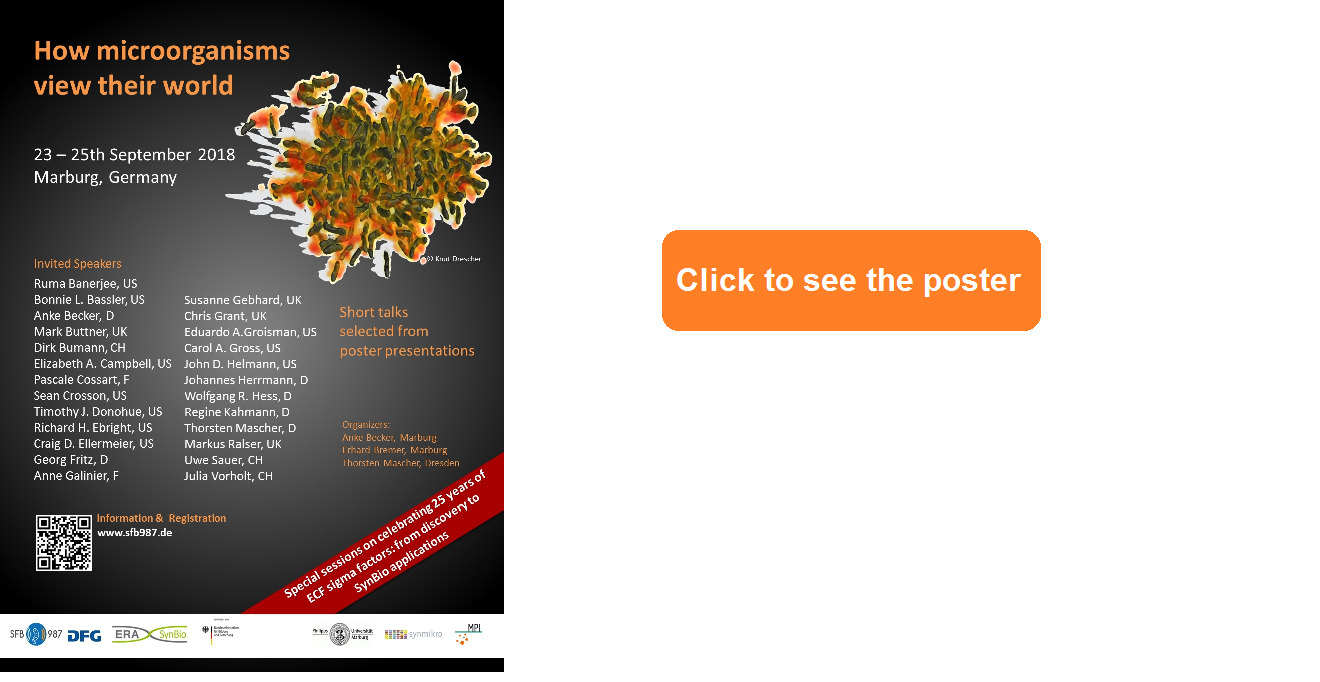 "It is not the strongest species that survive, nor the most intelligent, but the most responsive to change"

Leon C. Megginson, Professor of business management, (Louisiana ; USA)
About the conference
---
Description of SFB-987
Microorganisms are omnipresent in the biosphere and provide the greatest diversity of life on Earth. They successfully colonize almost every possible habitat. A key factor for the ecological success of microorganisms is their enormous biochemical, physiological, genetic and cellular adaptation potential that allows them to respond to countless challenging environmental conditions and cellular cues. For most microorganisms, there is only one certainty: change! As a consequence, microorganisms have developed specialized mechanisms that enable both individual cells and cellular communities to recognize and to respond to environmental changes with high sensitivity and specificity. Within the framework of the SFB 987, research teams at the Philipps-University and the Max Planck Institute for terrestrial Microbiology jointly focus on "Microbial Diversity in Environmental Signal Response". The SFB 987 research consortium aims at significantly advancing the current knowledge about the ability of microorganisms to react to environmental and cellular cues with situation- conforming adaptive responses.
Description of ECFexpress
ERASynBio is a transnational initiative to promote the robust development of Synthetic Biology (SynBio) and to structure and coordinate national efforts and funding programs. Under this umbrella, the ECFexpress consortium – which includes research groups from Germany, the UK and the US – aims at developing a SynBio design framework based on ExtraCytoplasmic Function σ factors (ECFs) to implement highly orthogonal regulatory switches and circuits. ECFs, which are typically non-essential and stress-inducible, were discovered 25 years ago and represent the most minimalistic and diverse group of the σ70 protein family that also includes the essential primary (or housekeeping) σ factors. ECFs represent ideal building blocks for SynBio applications, because they are modular, inherently orthogonal, universal, and scalable. By combining theoretical and experimental approaches, the ECFexpress consortium aims at implementing novel ECF-based switches and circuits in four phylo- genetically diverse microorganisms to benchmark their orthogonality and to explore the ECF-based circuit design space.
Invited speakers
---
Prof. Dr. Ruma Banerjee (University of Michigan, USA)
Prof. Dr. Bonnie L. Bassler (Princeton University, USA)
Prof. Dr. Anke Becker (Philipps-University Marburg, D)
Prof. Dr. Mark Buttner (John Innes Centre Norwich, GB)
Prof. Dr. Dirk Bumann (Biozentrum Basel, CH)
Dr. Elizabeth A. Campbell (Rockefeller University New York, USA)
Prof. Dr. Pascale Cossart (Institute Pasteur Paris, F)
Prof. Dr. Sean Crosson (University of Chicago, USA)
Prof. Dr. Timothy J. Donohue (Wisconsin University, USA)
Prof. Dr. Richard H. Ebright (Rutgers University, USA)
Prof. Dr. Craig D. Ellermeier (University Iowa, USA)
Dr. Georg Fritz (Philipps-University Marburg, D)
Prof. Dr. Anne Galinier (CNRS Marseille, F)
Prof. Dr. Susanne Gebhard (University of Bath, UK)
Prof. Dr. Chris Grant (University of Manchester, UK)
Prof. Dr. Eduardo A. Groisman (Yale University New Haven, USA)
Prof. Dr. Carol A. Gross (University of California at San Francisco, USA)
Prof. Dr. John D. Helmann (Cornell University Ithaca, USA)
Prof. Dr. Johannes Herrmann (Universität Kaiserslautern, D)
Prof. Dr. Wolfgang R. Hess (University Freiburg, D)
Prof. Dr. Regine Kahmann (Max Planck Institute for terrestrial Microbiology Marburg, D)
Prof. Dr. Thorsten Mascher (University Dresden, D)
Prof. Dr. Markus Ralser (University of Cambridge, UK)
Prof. Dr. Uwe Sauer (ETHZ Zürich, CH)
Prof. Dr. Julia Vorholt (ETHZ Zürich, CH)
Program
---
Beginning: 23 Sep 2018 at 4:50 pm
End: 25 Sep 2018 at 8 pm
click to see the flyer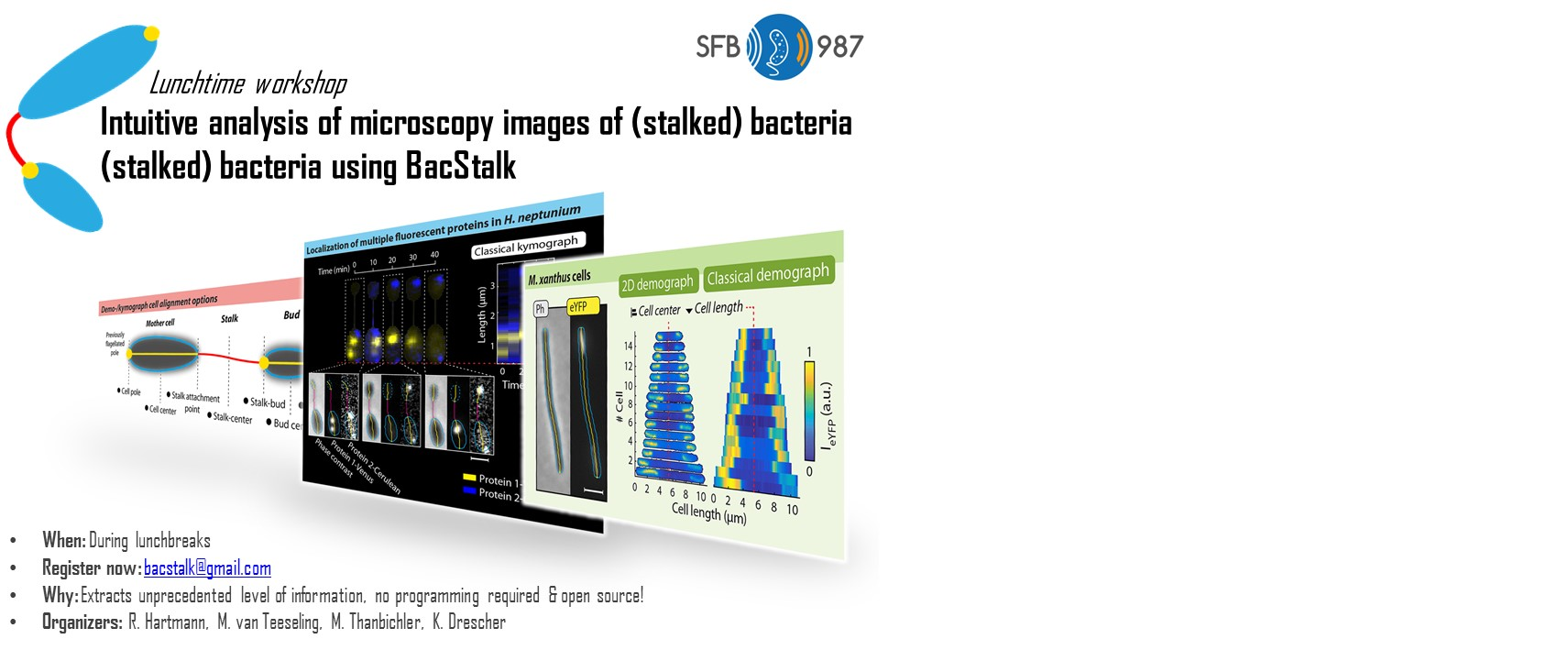 Deadlines
---
Abstract submission deadline

July 15th 2018
Registration deadline
July 15th 2018
Registration
---
All participants need to register via this website
Registration
Standard price: 270 € (incl. fee and MwSt)
Standard price with dinner: 300 € (incl. dinner & drinks, fee and MwSt.)
Standard registration includes
Registration and conference fees
Lunch and coffee breaks incl. drinks
Abstract and poster specifications
---
Abstract
Abstracts should include the following information:

Title

Authors and adress

Summary (max. 250 words)

max. 2 references

font: Arial 11
We accept files in Word (doc or docx). Please submit your abstract via e-mail at abstract.microbiocongress@uni-marburg.de.
Poster
Please submit an abstract of your poster via e-mail at abstract.microbiocongress@uni-marburg.de and bring along a printed copy max. A0 format, in portrait orientation).
Venue
---
The University of Marburg was founded in 1527 by "Philip the Generous", Count of Hesse. It has been a vibrant
place of research, teaching and scientific discussions for nearly five centuries. The Philipps University shapes
modern city life with over 26,500 students focusing on medicine, natural sciences, humanities and social
studies.

Visit www.marburg-tourismus.de for more information about our beautiful town.

For more information, please refer to Wikipedia or this collection of photos of the Marburg area.
Travel & accomodation
---
Travel
Marburg is located about 100 km from Frankfurt airport. There is an hourly train service from Frankfurt main station to Marburg. For details, please refer to the website of Deutsche Bahn.
Accomodation
Please book your accomodation with https://marburg-tourismus.de/SFB987-ERA
- IMPORTANT: Please mention SFB987-ERA
Organizer
---
This conference is organized by:
Anke Becker, Marburg
Erhard Bremer, Marburg
Thorsten Mascher, Dresden

Please see this website for more information on the members and the goals of the center.
Funding
---
This conference is made possible through generous support by

Contact
---
If you have questions concerning this conference, please contact:
microbiocongress@uni-marburg.de.
Bettina Happel & Svenja Estor, Marburg