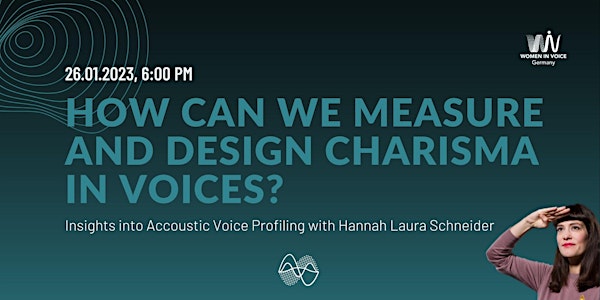 How can we measure & design charisma in voices?
Let's dive into the miracle of a charismatic voice.
About this event
In this talk, Hannah Laura Schneider & Oliver Niebuhr from charismatischer.de dive into the miracle of a charismatic voice.
Current charisma-research shows, that the speaking style of a voice is directly linked to the ability to build trust and represent confidence, competence and passion.
We will put focus on the "HOW" a voice sounds as this is equally important as "WHAT" the voice says. With our Acoustic Voice Profiling we can measure scientifically and objectively how charismatic a voice sounds to people and thus, we can put data into voice evaluation. In this talk we will provide also insights into the analysis and ranking of the speech synthesizers of the most common services (AZURE/GOOGLE).
We would love to discuss our approach with the Women-in-Voice Community and look forward to some co-creation on the following topics:
🤖 How do humans talk & listen and how can we adapt those learnings in the development of user-centred voice bots?
🧠 How can we adapt the acoustic melodic parameters of Voices in different contexts? Which acoustic parameters are important for e.g. competence vs. passion?
📊 How can we measure charisma in voices? And how can we integrate these learnings in the design of Voice Personas and Conversational AI?