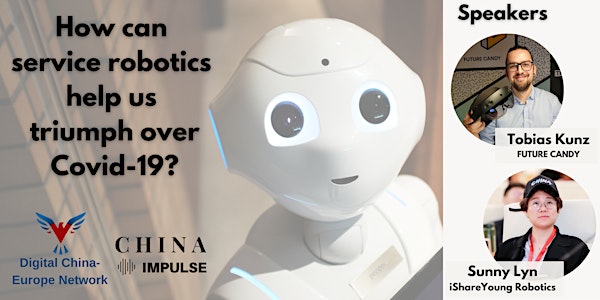 How can service robotics help us triumph over Covid-19?
Covid-19 bolstered the adoption of service robots in China. Will we see increased service robotics & AI adoption as a result of Covid-19?
Refund Policy
Contact the organizer to request a refund.
About this event
Robotics and AI played a key role in minimizing human contact and preventing cross-infection as the whole world practiced social distancing during Covid-19. How will the role of robotics and AI change in the future as our world slowly move towards re-opening?
Will we now see an increased adoption of service robotics & AI around the world as a result of Covid-19, which will be deployed to combat other existing virus threats and threats from future viral and bacterial infections as yet unknown?
Since the start of the Covid-19 pandemic, that has enveloped the world with all of its far reaching economic and social consequences, the robotics industry has redoubled its efforts to bring out effective and affordable solutions to assist in combating the health emergency. According to EO intelligence report, unlike industrial robotics, where China has been playing catch-up with western companies over the past decade, China has the potential to be the global leader.
It is expected that the consumer and retail use of robotics and automation solutions will increase dramatically with this current pandemic, both through an increase in market penetration and in application areas.
Governments, local authorities, hospitals and clinics, transport hubs, corporate and SMEs are predicted to invest more in hygiene control to create sterile and safe environments for staff, patients, travelers, customers, clients and the public in general.
With the pandemic dominating and disrupting people's lives, disinfect and other service robots - used with vaccination programs and other preventive measures – will reduce the risk of virus transmission and with this containment increase the opportunities for personal interaction and a normalization of living.
At this event, attendees will learn more about the different application scenarios for service robotics during Covid-19 in China and in Europe and what are the current opportunities open to service robotics companies from China and Europe and the outlook of this market.
Following the event, those registered will receive two BONUS video interviews providing detailed insights into how robotics where applied have contributed to the control and prevention of Covid-19, opportunities and challenges faced by Chinese service robotics companies when they go international and the development and outlook of service robotics market.
The panel discussion with Tobias Kunz, Product Manager at the innovation company Future Candy and Sunny Lyn, CEO of Shenzhen IShareYoung Technology Co., Ltd, moderated by Alexandra Stefanov, Founder of China Impulse will be followed by questions from the invited audience in an interactive Q&A.
Panelists/Speakers:
Tobias is the product manager of Future Candy. He's an expert for the implementation of Technology to create sustainable business models in the long run. His philosophy is to Test, Try and Evaluate new tech and then Improve accordingly. He's got many years of experience in implementing service robots in the industry ranging from AI powered devices like Loomo or Smart Assistants to Social Robots like Pepper or Lynx.
Sunny is the CEO of a Shenzhen Startup called IShareYoung. IShareYoung was founded in July 2015, it is comprised of a group of passionate overseas tech returnees to China and young college geeks. At present, she creates a group of lively little education robots & virtual assistant AI robots. They accompany and educate more than 300,000 children on earth and can help foreigners learn Chinese, Chinese culture and history.
Key Note Speaker and Organizer:
Chanfang is the founder of Digital China-Europe Network consisting over 500 experts and leaders who drive Chinese European business and technology innovations in the area of emerging technologies. She has more than 13 years international experience in the area of Corporate Strategy, Change Management, Business intelligence, Business Development in software & industrial automation industries. She's also the founder of China Expert Services, which helps European high-tech SMEs digitize and scale in China; and Chinese high-tech SMEs scale in Europe so that they can succeed without market, capital and cultural barriers.
Moderator and Co-Organizer:
Alexandra Stefanov studied Sinology and Transcultural Studies in Heidelberg, Tianjin and Shanghai and is the founder of China Impulse. For over 10 years now she has dedicated herself to the topics of internet culture, innovations and digitization in China. With China Impulse she uncovers Chinese digital trends and presents them in a compact and easily accessible manner in order to create a better understanding for China and the Chinese digital mindset. At the same time, Alexandra is part of the Digitization Initiative of the German Economy (Digitalisierungs-Initiative der Deutschen Wirtschaft) where she promotes digitization and innovations in German-speaking countries.
Agenda
Host introduction – Digital China-Europe Network & China Impulse
Meeting etiquette
Key note: anti-covid-19 robotics in China
Panel Discussion
Q&A
Stay in touch
A Zoom link with passcode will be provided after you register.
This Zoom meeting will be recorded.