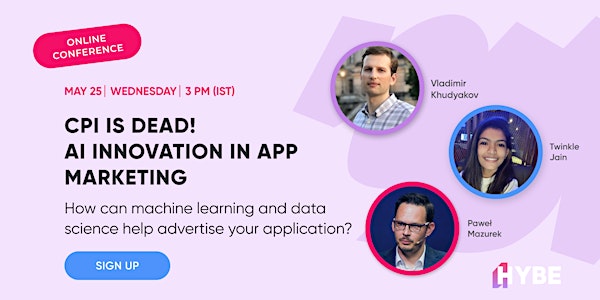 How can machine learning and data science help advertise your app?
How can ML and data science make your app promotion more powerful? Learn more about programmatic trends in 2022!
About this event
Using Artificial Intelligence is a must have in programmatic advertising in 2022, and it's one of the most effective ways to catch truly valuable users for your mobile app. However, sometimes it seems to be too complex to understand how it works and why you need it.
Join our online conference to learn how machine learning and data science can help you successfully promote your app in 2022.
We will cover:
Newest trends in programmatic in 2022.
How AI and Data science work in programmatic advertising and marketing in general?
Machine learning optimization of ad campaigns - key elements.
Transparency in advertising - why it matters?
Use cases for multiple app categories.
Our experts:
Vladmir Khudiakov - expert in app marketing 10+ years in advertising industry
Twinkle Jain - Senior executive professional in Adtech 5+ years in advertising industry
Paweł Mazurek - seasoned marketing professional and lecturer (16+ years in marketing)
Sign up to get your free ticket!