How can I use personal business modelling to continuously reinvent myself?

Monday, 27 April 2015 from 18:00 to 19:30 (CEST)
Event Details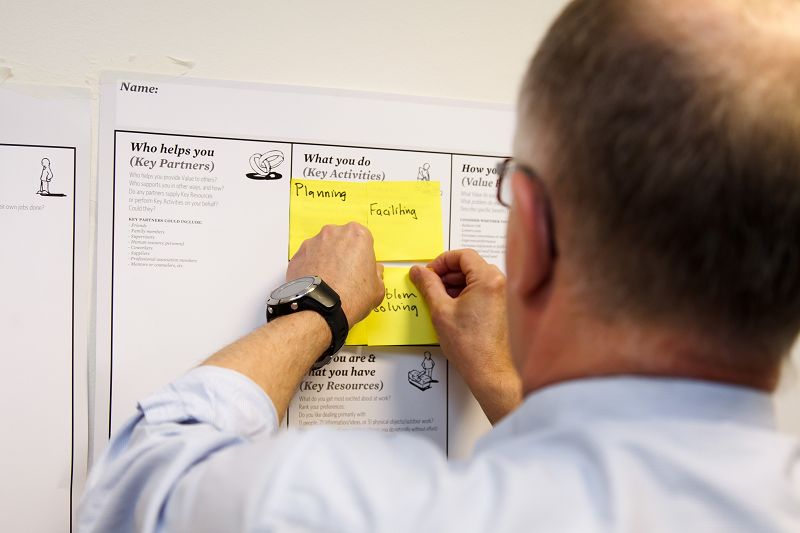 Have you ever experienced this?
Everybody dreams about new careers or life paths. Or simply about redefining your solo Business.
Questions like the following pop up in our heads, especially after the holidays or as a New Year resolution: 
What is the next step I should take in my career?

Should I become a freelancer?

Should I start my own company based on my business idea?

Should I change jobs/explore new career opportunities?

Where is my business going? 
What are personal business models? 
Adapting to quickly changing business models, is a must in today´s world. 
Personal business modelling (as described in Bestseller Business Model You), is a structured way to reinvent ourselves, a powerful tool you can learn to apply and use for a lifetime.
How?
Business Model You® is a simple but powerful way to apply the power of business model thinking to career redesign and management. 
The Business Model You® process uses an easily understood visual tool to teach you how to describe and analyze both enterprise and "personal" business models. It shows you how to revisit your life direction and consider how you want to align your personal and career aspirations. You're then ready to adjust your work life using the Personal Business Model Canvas.
In this 90 minute workshop, you will get the chance to learn more about personal business modelling, work on a first draft of your own model and to ask questions directly to Mercedes Hoss, a career coach and facilitator who discovered the method for herself, uses it as a central coaching tool with her clients and has been working with Book Author Tim Clark organizing Workshops, Master Classes and events in Europe since 2013. 
---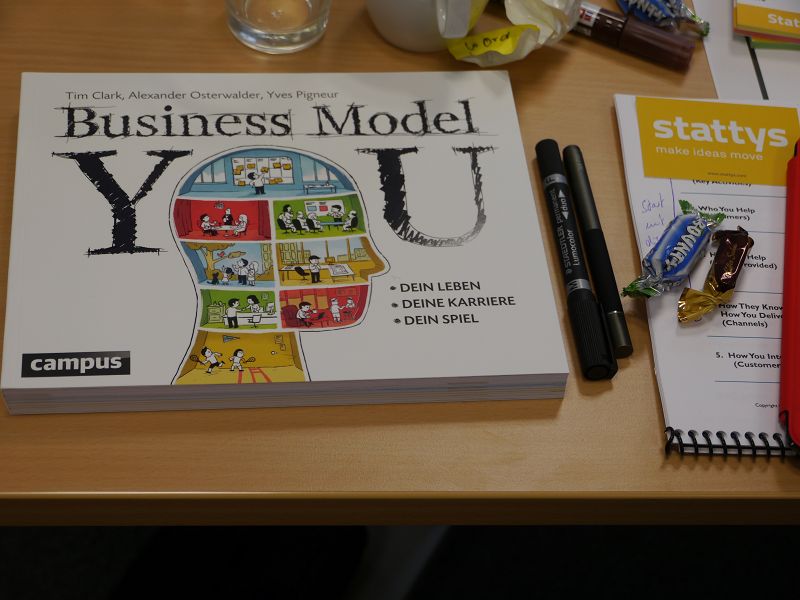 Interested in learning more about personal business modelling as a tool to continuously reinvent yourself before signing up?
Here some recommended links:
Backstory
Bestselling Book Author Tim Clark @ TED - The backstory
What? 
Business Model You explained in 2 minutes?
Business Model You - the book (free sample)
How?
Quick way to start drawing a model
What past workshop attendees say...
What can I expect from a one day workshop?
How can I learn to use personal business modelling to help my clients/ in an enterprise environment?
Can I use business model you as a talent management tool in the organization?
Upcoming workshops and Master Classes in Germany 
Note: This 90 minute Workshop is offered in English (with translation to German as required) 
---
FAQs
Cancellation terms: If you cancel up to one month before the event, 50% of your workshop fee will be refunded. After that date we cannot refund workshop fees for any reason, but at any time you may designate someone else to attend the class in your place.
Program content is subject to change at the facilitator's sole discretion.
Program may be canceled if enrollment is insufficient and tickets price will be refunded 100%. Off-Time GmbH can not be held responsible for travel reservation losses or inconvenience resulting from cancellation due to insufficient enrollment.
---
Stornobedingungen: Bis zu einem Monat vor der Veranstaltung wird 50% der Teilnahmegebühr zurückerstattet. Nach diesem Zeitpunkt können wir keine Workshopgebühren zurückerstatten, aber zu jeder Zeit können Sie Ihren Ticket an eine andere Person übertragen.
Hinweis: Die Programm Inhalte können bien dem Moderator geändert sein. Wenn das Programmunvermeidlich storniert werden sollte, werden alle Ticketpreise zu 100% erstattet. Off-Time kann keine Verantwortung für Reisebuchung Verluste oder Unannehmlichkeiten unvermeidlich Annullierung übernehmen.
Do you have questions about How can I use personal business modelling to continuously reinvent myself??
Contact Off-Time GmbH
When & Where

Central Location (Munich)

München
Germany


Monday, 27 April 2015 from 18:00 to 19:30 (CEST)
Add to my calendar
Organiser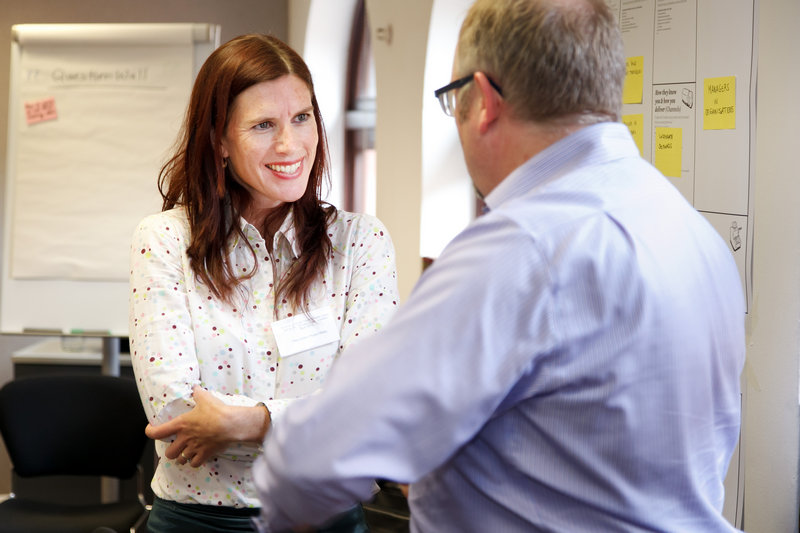 About the Facilitator
Mercedes Hoss...
Supports (inter)national organizations with the development and improvement of business models by getting teams and individuals to think broadly and expansively about their own strategies and business models. She enjoys realizing the successful impact of implementing new tools, skills and mindsets within organizations.
She has 20+ years of hands-on management experience, 16 of which in leading functions in the areas of IT (ERP/ consolidation/ financial integration) and business/ process optimization for international corporates, like Coopers & Lybrand, Systems Union, Pfizer Inc. and Ancestry.
Born in Argentina (German and Italian descent), she lived in the US, UK and Chile before moving to Munich in 2008 and worked in over 30 countries. She speaks and "lives" English, German and Spanish
Her areas of expertise include project management, "new" leadership, "entrepreneurial" career planning, cultural intelligence, co-creation/ design thinking, and end-to-end organization of impactful collaborative events.
She holds a Business Administration Degree (Universidad Catolica Argentina) and is a certified project manager (PMP®), business coach (ACTP ICF), communications trainer (IMS), LEGO® SERIOUS PLAY® Facilitator and Business Model You® Practitioner.
Since 2013 she works with Tim Clark (Business Model You author) organizing and co-facilitating Business Model You® workshops in Europe.
MBTI®: ENFP